ESPN sports anchor suspended for tweets about NFL team owner
Published time: 10 Oct, 2017 14:15
Edited time: 10 Oct, 2017 14:32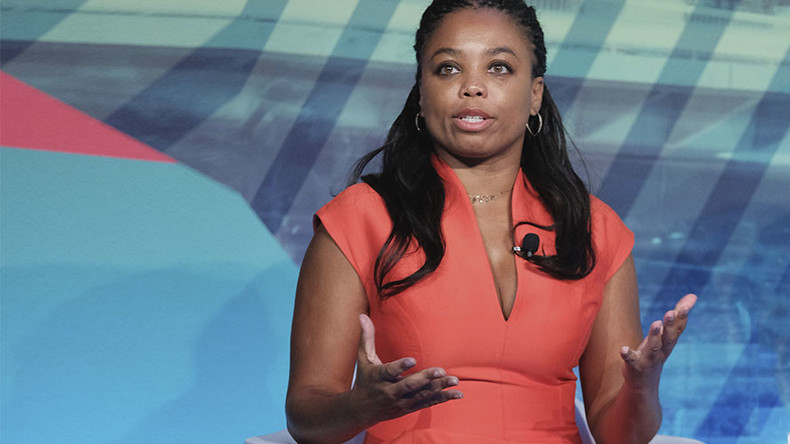 ESPN TV host Jemele Hill received a two-week suspension from the network after posting a series of tweets suggesting her followers boycott Dallas Cowboys' sponsors. It followed the team owner's vow to bench players who protest during the national anthem.
On Monday ESPN, a television and digital rights-holder of the National Football league (NFL), handed a two-week suspension to Hill for "violating social media policy" following a series of tweets she made in response to Jerry Jones' pledge to punish NFL players for kneeling during the national anthem.
This play always work. Change happens when advertisers are impacted. If you feel strongly about JJ's statement, boycott his advertisers. https://t.co/LFXJ9YQe74

— Jemele Hill (@jemelehill) October 9, 2017
"Jemele Hill has been suspended for two weeks for a second violation of our social media guidelines," the network said in the statement.
"She previously acknowledged letting her colleagues and company down with an impulsive tweet. In the aftermath, all employees were reminded of how individual tweets may reflect negatively on ESPN and that such actions would have consequences. Hence this decision."
Last month, Hill expressed regret for her tweets directed at Donald Trump, where among other things she called him "a white supremacist."
After Hill's comments emerged on social media, ESPN said her remarks did not reflect the view of the network.
Earlier this week, Dallas Cowboys owner Jerry Jones announced his hardline stance on kneeling protests in the NFL by stating he will bench any player who shows disdain for the national anthem.
Jones, arguably one the most powerful owner in the NFL, insisted that players need consequences for their actions, adding he is ready to impose disciplinary sanctions on players who appear "disrespectful" to the US flag and anthem.
Jones noted that the NFL Game Operations Manual contains strict recommendations of how players should behave when the anthem is played and violation of the rules may lead to fines, suspensions and even draft picks being docked.
The wave of silent protests, which has swept many US sports leagues, was triggered by San Francisco 49ers quarterback Colin Kaepernick last year. Back then, Kaepernick refused to stand for the anthem as a means of protesting police brutality and racial inequality in the USA.
US Vice President Mike Pence, who attended match between the Indianapolis Colts and the San Francisco 49ers last Sunday, walked out of the stadium after nearly 20 players of the visiting knelt during the anthem.
READ MORE: Mike Pence walks out of NFL game after 49ers take a knee during national anthem
Just a day later, Trump questioned tax breaks that the NFL receives in one of his tweets.
"Why is the NFL getting massive tax breaks while at the same time disrespecting our Anthem, Flag and Country? Change tax law!" he wrote.
READ MORE: Trump calls for tax changes for NFL following national anthem protests
The president also addressed Hill directly.
"With Jemele Hill at the mike [sic], it is no wonder ESPN ratings have 'tanked,' in fact, tanked so badly it is the talk of the industry!" says one of his latest tweets.