'Stand for anthem or sit for game': NFL owner's ultimatum to players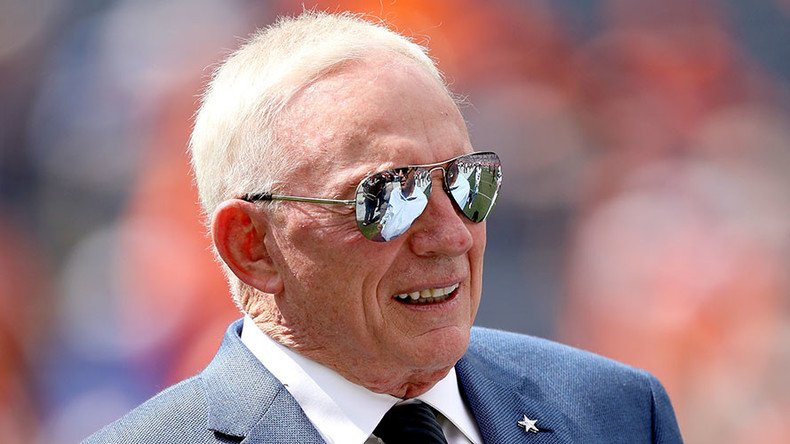 The owner of the NFL's Dallas Cowboys, Jerry Jones, has warned his players that anyone who protests during the pre-game National Anthem will not be allowed play.
Two weeks ago Jones and the rest of the Cowboys took part in a watered down demonstration where they kneeled before the anthem.
That move came after US President Donald Trump attacked the NFL over the #TakeAKnee anthem protests which were started last year by former San Francisco 49ers player Colin Kaepernick. He did it as a means of protesting against police brutality and racial inequality.
However, Jones has now said that the league cannot give any "implication that we tolerate disrespecting the flag."
"We know that there is a serious debate in this country about those issues, but there is no question in my mind that the National Football League and the Dallas Cowboys are going to stand up for the flag. So we're clear," the billionaire said after his team's loss to the Green Bay Packers on Sunday, according to the Dallas Morning News.
No Cowboys kneeled during the anthem, however, two of the Texan team's players, David Irving and Damontre Moore, raised their fists during the song's conclusion. When asked about that in the post game press conference Jones denied any knowledge of it.
"I don't know about that," he said. "But if there's anything that is disrespectful to the flag, then we will not play. OK? Understand? If we are disrespecting the flag, then we won't play. Period."
Jones was speaking in the aftermath of Vice President Mike Pence leaving the Indianapolis Colts–San Francisco 49ers game on Sunday when around 20 players – about 40 percent of the 49ers roster – kneeled during the 'Star Spangled Banner.'
Pence tweeted that he left the game because he and President Donald Trump will "not dignify any event that disrespects our soldiers, our Flag, or our National Anthem."
President Donald Trump later tweeted that he told Pence to leave the game if any players took part in the protest. He added that he was proud of Pence and his wife, Karen.
You can share this story on social media: