'I'll fight Mousasi if it's for the title' – Bellator's Alexander Shlemenko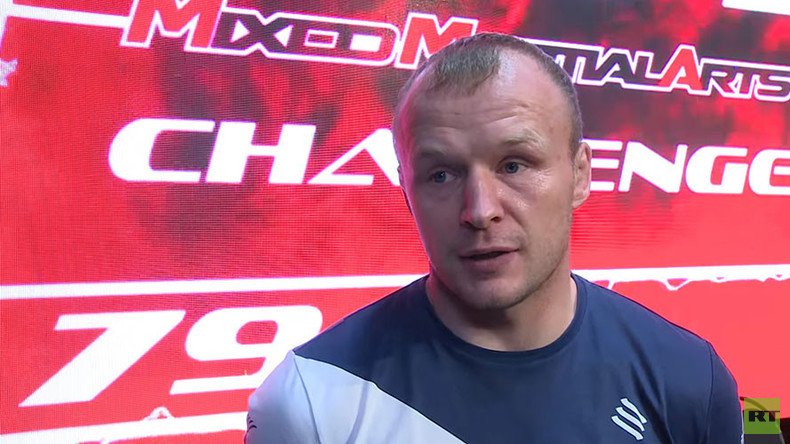 Former Bellator middleweight champion Alexander 'Storm' Shlemenko told RT Sport that fighting Gegard Mousasi, who recently become the organization's latest big addition to the roster, certainly interests him, but a championship fight would be bigger motivation.
It emerged on Monday that Iranian-born Dutch MMA fighter Gegard 'The Dreamcatcher' Mousasi had signed a deal with Bellator, the second-biggest American MMA promotion, following a four-year stretch with the UFC. By penning the deal, 'The Dreamcatcher' became the highest overall rated pound-for-pound fighter in Bellator's current roster (number three according to fightmatrix.com).
"Bellator MWs (middleweights), there is a new sheriff in town," Mousasi tweeted following the news.
RT Sport contacted former Bellator middleweight champion Alexander Shlemenko for comment. Shlemenko lost his belt in September 2014 to American Brandon Halsey, but has been victorious since then, fighting both in Bellator and Russian MMA promotion M-1 Global. It was under the M-1 banner at the beginning of June when he claimed his latest victory, comprehensively beating Halsey when the American tapped out in just 25 seconds.
Talking over the phone, the 33-year-old veteran, who has over 60 professional MMA fight on his record, revealed that the latest addition to Bellator's middleweight division was unexpected news for him, and that he has to fulfill his current obligations before seriously considering fighting Mousasi.
RT: Have you heard the news about Mousasi signing with Bellator? Would you be interested in fighting him?
Alexander Shlemenko: Yes, I've heard the news. Regarding fighting him in the cage, it would be a rather interesting move for me. But it depends when and how. I'm not looking to have a fight too soon, as at the moment I'm more focused on preparing my student, Andrey Koreshkov, for his upcoming Bellator fight on August 25. And my other students as well, since I have a big team called New Stream. Mousasi is a serious opponent and fighting an athlete of his level takes solid preparation.
RT: Would you want to face him if the circumstances were right?
AS: To be honest, I'd be more motivated if the fight with Mousasi were for the belt. I lost my belt to Brandon Halsey by mistake in 2015, but now I've beaten Halsey. So I'd want to take it back. Fighting Mousasi is something I never thought of, as we all learnt the news just yesterday.
RT: Would the fact that Mousasi is rated higher than you give you any motivation, though?

AS: That's definitely something that makes more sense for me to fight in Bellator now. If I want to move up in the top 10, I have to face the guys who are rated higher than me. And there was no one in my division really. But now we see more and more solid fighters moving to Bellator. But to be honest, that's not my highest priority to fight Mousasi right now. If that were a title fight then yes, I'd definitely go for it. But, as I said earlier, now I'm focusing on my student's fight, as we've to get his belt back. I'll be in his corner as I always am in the fights of my students. He made a mistake in his last fight, and we have to fix it. Same thing for me, I have to get my belt back.
You can share this story on social media: