MMA veteran Shlemenko destroys Halsey in 25 seconds, says he's 'up for bigger goals now' (VIDEO)
Published time: 2 Jun, 2017 19:17
Edited time: 2 Jun, 2017 22:38
Russian Alexander Shlemenko made short work of American Brandon Halsey, finishing him just 25 seconds into their fight at M-1 Challenge 79 in St. Petersburg on Thursday.
The highly-anticipated rematch between the Russian veteran with a record of 54 wins and nine losses and the powerfully-built American was the main event of M-1 Challenge, held in St. Petersburg as part of the program for the annual international economic forum in the northern Russian city.
The history of the pair's fractious relations added spice to the fight, making it more than just a classic Russia-US competition.
The last time they met four years ago in American MMA promotion Bellator, Halsey finished the bout against reigning champion Shlemenko - who had previously defended his belt four times - in just 35 seconds.
Both fighters spoke to RT Sport ahead of the much-anticipated rematch – which finally came about after Halsey joined Shlemenko in M-1 – with both expressing animosity.
Shlemenko described the American as "a fake and a two-faced person," while Halsey claimed his Russian opponent was simply bitter at being choked out so soon in the first fight.
All of that set the scene for Thursday, June 1 - the night for them to take their anger to the ring. A packed Yubileyny Sports Palace was electrified ahead of the fight.
When the wait was finally over, Shlemenko and Halsey opened without the traditional glow touch – just another sign of their open hostility.
Shlemenko, who's known for his devastating liver shots, landed a big body kick on the right side of Halsey's upper body.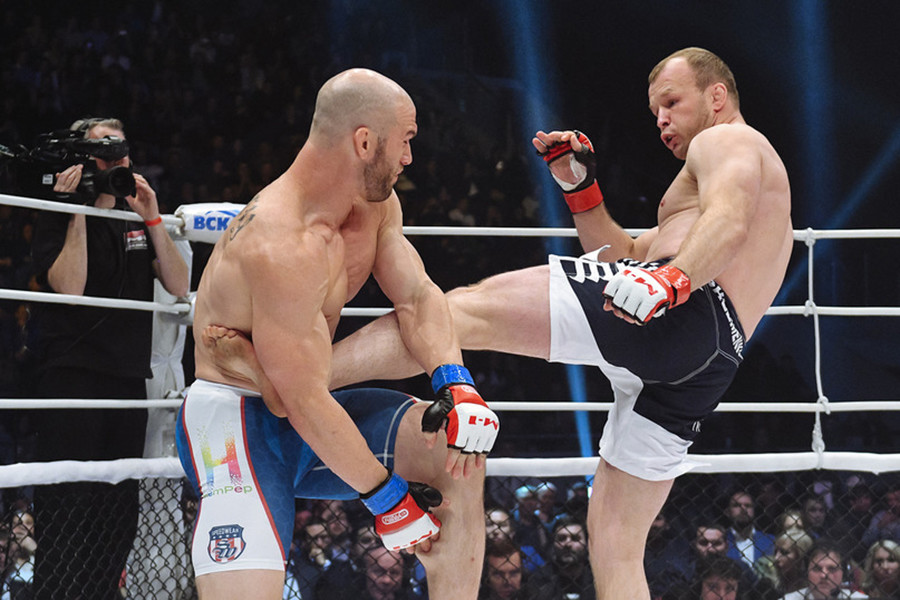 Halsey seemed to catch Shlemenko's leg for a takedown, but as they both went down on the canvas, the liver shot effect seemed to kick in.
The American curled up and put his arms in front of his head in attempt to provide some passive defense. That was the moment Shlemenko took the chance to express the years of pent-up rage.
Nicknamed 'Storm', Shlemenko furiously landed a dozen strikes on Halsey, forcing him to tap out as the referee seemed stunned by the action developing just seconds into the first round.
The referee eventually jumped in, waving off the fight, but a pumped-up Shlemenko stood there for a moment staring furiously at Halsey.
Normally very calm and visibly relaxed, Shlemenko this time was not shy to express his emotions after the victory, pointing to a stricken Halsey and dancing in the ring.
Following the victory, Shlemenko found time to talk to RT Sport and reveal his emotions after the fight as well as his future plans.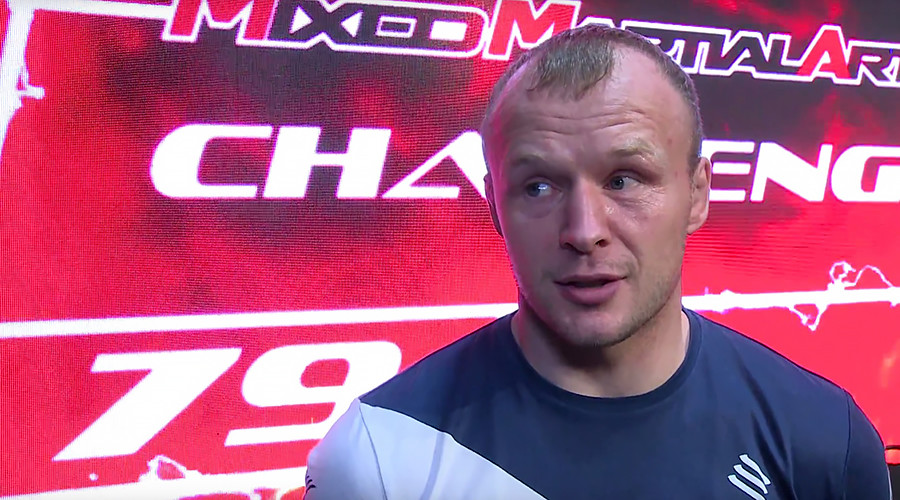 RT: How sweet does it feel for you to get that victory in just 25 seconds?
Alexander Shlemenko: I am just happy. I lost to him in 35 seconds in our previous fight. That was my mistake. I did my homework. And I finished him even quicker. So we all know now who is the best.

RT: Do you think referee should have stopped that fight earlier, before Halsey tapped out?

AS: Yes I think so. But it's not my job, it's the referee's job to decide. I am glad that he tapped out, though. So he will have no chance to say that was the ref's mistake or anything. He tapped, he accepted the loss himself. So I can't really blame the referee.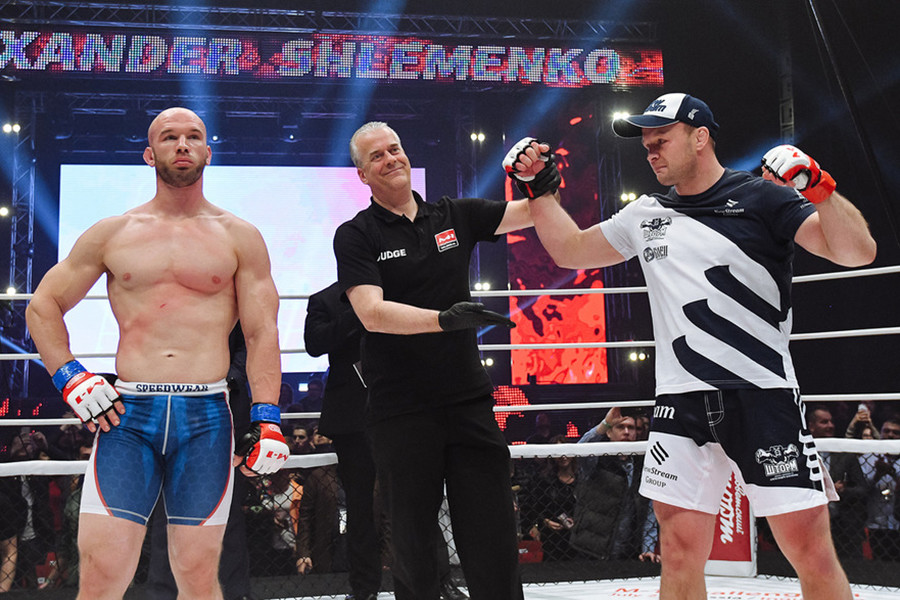 RT: You mentioned earlier that you want to have your next fight in Bellator. You made a big statement tonight. Do you think they will give you a title shot after that?

AS: I don't really think about it, to be honest. It's not my main concern. I have already been their champion. There are some bigger goals in this world.

RT: Could you share those goals with us?

AS: No, I can't talk about it now. We will learn soon. But I feel great, I am full of energy. And I think I finally figured out all the things about the mental part of this game. I reached a perfect fighting age. I am 33 now. That's the age of Christ, as they say. So I think I will be all good from now on.

RT: We know you and your wife are expecting your third child. Is there anyone you would want to dedicate this victory to?

AS: Yes this is true. But this victory I dedicate to my son, he will turn two tomorrow. He knew his daddy went for a fight. So this is all for him.