'I'll beat up Shlemenko no matter how many rounds' – Brandon Halsey on rematch (VIDEO)
MMA fighter Brandon 'Bull' Halsey, set for a rematch with middleweight Alexander Shlemenko at M-1 Challenge 79, almost three years after his submission victory at Bellator 126, told RT Sport he is more than excited to face the Russian on his home turf.
When American Halsey faced Shlemenko for the first time in 2014, the Russian fighter was the defending champion – with 11 victories and just two losses inside the Bellator cage.
Being an underdog coming into that fight didn't seem to bother Halsey, and he made short work of Shlemenko. After a quick takedown just seconds into the first round, the California native mounted his opponent's back and went for a rear-naked choke.
Shlemenko, known for his durability and unwillingness to tap, stayed true to form and endured the choke until he lost consciousness.
'Bull' thus earned his first championship belt – and it took him all of 35 seconds.
He was due to defended the title a year later against Hawaiian Kendal Grove, but failed to make weight and was consequently stripped of the belt. The fight still went ahead, with Halsey winning in the fourth round by way of technical knockout.
Halsey recorded defeats in his following two fights – which remain the only losses in his professional career – after which he parted ways with Bellator in the latter half of 2016 and ended up a free agent, looking for opportunities.
At the beginning of April, it was announced that Halsey would face Shlemenko again, this time in an event organized by M-1 Global – the oldest active Russian MMA promotion – in St. Petersburg, Russia, on June 1.
Speaking to RT Sport via Skype, Halsey said he likes the idea of the rematch and is looking forward to fighting Shlemenko again.
RT: It's been almost three years since you fought Shlemenko. Obviously a great quick victory. Just 35 seconds. Describe the feeling when you got an offer to fight him again.
Brandon Halsey: It's exciting, you know. A rematch – everybody loves rematches because it settles the score of, you know, 'who is the better fighter?'. Because sometimes somebody could use excuses like 'he got lucky' or whatever. But once you've dominated someone two times, there's no question of who's the better fighter.
RT: What's your current contract status? Are you an M-1 fighter now?
BH: I was a free agent. I got out of contract with Bellator back in 2016. You know, I've just been training and seeing what opportunities present themselves. And then M-1 approached me with this fight a few times, unable to come to an agreement. Now for this fight, June 1, we actually came to an agreement and I'm actually on a contract with M-1 now.
RT: Except for the contract, did you have additional motivation to accept the fight?
BH: I was happy with the contract that they came with, you know. I held out and got what I wanted; I got this rematch. So you know, I'm excited to go over to Russia. You guys have some of the greatest fans over there too for MMA.
RT: Another ex-Bellator fighter, Paul Bradley, recently fought Shlemenko in Moscow in March. Did you ever talk to him before signing with M-1?
BH: Yeah, I know Paul Bradley from training. I've trained with him a few times. But, no, I've never spoke to him about anything about the fighter or a contract or anything.
Read more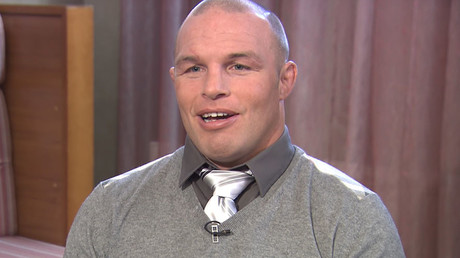 RT: It's going to be your first time in Russia. What are your expectations?
BH: I've traveled all over the world. I don't judge, I don't stereotype people. I just go with the flow. I'm excited to go over there. All these stereotypes – Russia's this, Russia's that. I don't buy into it. I just go out there and have a good time. You know, part of the biggest thing is learning about someone's culture is going over there, you know, eating the food, talking to the people. I'm excited to do that. It's my first time over there and I'm hoping to have a blast.
RT: At the start of your career you fought as a light-heavyweight. Then you moved to middleweight and won the Bellator belt. But when defending the belt against Kendall Grove you couldn't make the weight and were stripped, despite winning the fight. Do have any worries about making the weight now?
BH: I have no doubt in my mind that I'm gonna make the weight. It's just another walk in the park for me. There were some technical difficulties with the Grove fight that I'm not going to go into – that's water under the bridge. I'm just looking forward to going over to St. Petersburg and fighting Shlemenko at middleweight. It's going to be no problem.
RT: How much weight do you normally cut and what's your weight-cutting technique?
BH: I do the weight slowly but surely. I don't try to lose more than half a pound a day. That way my body stays fresh and I don't drain myself. I walk around at 210-215 (pounds) so it's not too big of a cut, but it's a little bit of a cut. Towards the last week obviously you gotta pull water weight out. There's a little bit of the technique that's involved with dehydrating your body correctly, so you're not fatigued for the fight.
RT: Do you plan to come to Russia a couple of weeks before the fight to get acclimatized and make weight?
BH: Oh yeah, you know, the rule thumb is for every hour time zone you jump you gotta go a day in advance. You guys are 10 hours ahead of me so I gotta be there at least 10 days in advance, so that's the plan. Gotta reset the clock and make sure I'm acclimated to the time zone.
RT: What do think will be your key to victory in the fight with Shlemenko?
BH: Just pressure. There's no denying that I'm a bigger physical fighter, so I'm gonna use that to my advantage. He's a small middleweight so I'm gonna use my physical presence to overwhelm him.
RT: It's going to be a three-round fight since you aren't fighting for the belt. Would you rather have a five-round fight with Shlemenko?
BH: It doesn't matter. My physical presence is just going to be overwhelming, whether it's three rounds or five rounds. It's just that many more rounds he gets beat up in, you know what I mean.
RT: Given that you come from freestyle wrestling, will you rely on your wrestling skills in the fight with Shlemenko?
BH: My theory is, if it ain't broke, don't fix it. Last time we beat him with wrestling. There's no surprise that I'm gonna go out there and beat him with the wrestling again.
RT: After your previous fight, Shlemenko said he got a finger or two dislocated when you took him down, and was trying to put them back in. So he wasn't defending himself at the moment you were taking his neck. What's your opinion on that?
BH: That's the part of the fight, you know, if someone gets punched in the face and they're gonna go, 'oh crap, you punched me in the face, I wasn't looking' – you can't deny that's what fighting is about. Stuff happens in the fight, you have to overcome it. That's what makes you a fighter – overcoming those adversaries that make us vulnerable in the fight. So him dislocating his fingers – that's not my problem. That was something that happened to him in a fight, that he has to deal with. That's all part of the fight game.
RT: What's your opinion on Shlemenko in general outside of your fights?
BH: I think he's a great fighter. He's got over 60 fights, that's a pretty incredible accomplishment, and he's got over 55 victories. As a fighter, I respect the guy but when he gets in the ring with me, that's gonna be a different story. That's when I flip the hat around and turn it on.