'I really don't like Halsey, but it has nothing to do with him being American' – Alexander Shlemenko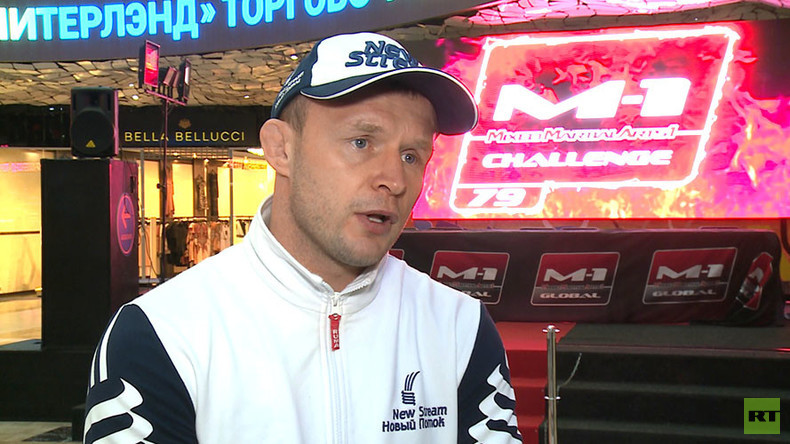 Russian MMA veteran Alexander Shlemenko, who faces American Brandon Halsey in a rematch at M-1 Challenge 79 in St. Petersburg on Thursday, says his strong attitude towards his opponent is based on their personal history and has nothing to do with Russia-US relations.
When Shlemenko and Halsey met for the first time back in September of 2014, the Russian middleweight was the reigning Bellator champion with three consecutive belt defenses. The bout was over after just 35 seconds, however, when following a takedown Halsey successfully executed a guillotine choke to claim a technical submission victory.
READ MORE: 'I'll beat up Shlemenko no matter how many rounds' – Brandon Halsey on rematch (VIDEO)
Shlemenko later revealed that during that period he had been "experimenting" with a vegetarian diet, which in his words led to weak conditioning and the loss of the championship belt.
Since that loss, the Russian has been undefeated, fighting in both Bellator and in Russian MMA promotion M-1 Global.
Halsey couldn't defend the Bellator belt as he missed the weight for his next fight against Kendall Grove, although he ended up winning the bout. However, he then lost his next two fights and was released from Bellator.
Now, three years later, Halsey has signed a three-fight deal with M-1 Global and will face Shlemenko in St. Petersburg, Russia, in his first bout under the banner of his new promotion.
We spoke to both fighters during the press conference in Piterland mall in Russia's northern capital, to find out how they feel about each other ahead of the rematch.
Brandon Halsey
RT: We notice that you and Shlemenko didn't shake hands after the staredown, something that we've seen between all other fighters at the weigh-in.
Brandon Halsey: Apparently he's a little bitter from being choked out in 30 seconds. I'd be kind of mad too. I mean, I don't blame him. I know he's used some words like 'hate.' I wonder why he hates me. Hate is such a strong word, but it doesn't bother me. If that's how he feels, obviously he has some self issues.
RT: Normally Alexander is very respectful towards his opponents, but it's very different with you for some reason. Why do you think it's this way?
BH: I'm doing my job, I'm getting under his skin and I'm getting him off his game. At the end of the day, I'm here to have fun and put on a good show. I guess I'm doing my job. And I can see it in his eyes – he's going to be questioning himself.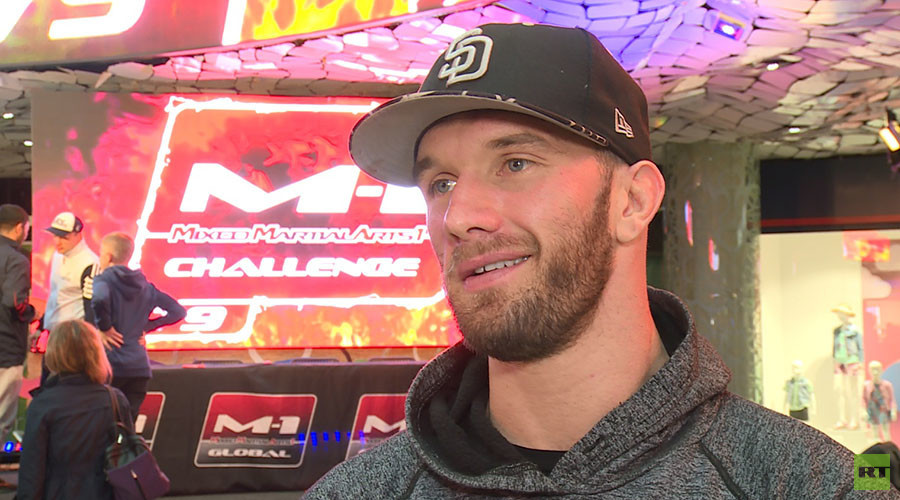 RT: Do you think you'll shake hands after the fight?
BH: If he wants to shake hands and be a big boy, I will. We're sportsmen. This is the name of the game. Some people win, some people lose. It's called being a man – shake hands afterwards.
Alexander Shlemenko
RT: You said earlier that you want to win this fight by stoppage and that this fight is very important for you. Why is that the case?
Alexander Shlemenko: Of course I want to win by stoppage. I'm not making a secret of it – I really don't like Brandon Halsey. I don't like that sort of person. I'll be more than happy to finish him. Some people think we're hyping the fight and it's a typical Russia versus USA battle. No. Not at all. I have no issues with any nationalities. It's all about him. I know that he's a fake and a two-faced person.
RT: Why do you think so?
AS: We've known each other for quite a long time. We used to train together. We were communicating. He used to help me, I used to help him. But after he won that fight, he didn't say anything about our history, the only thing he said was that he doesn't even know my name. That's ridiculous. We used to help each other before, but then I got nothing but disrespect from him. That's why I really want to finish him.
READ MORE: 'I don't think Brandon Halsey will show up' – Alexander Shlemenko on upcoming rematch at M-1