'I don't think Brandon Halsey will show up' – Alexander Shlemenko on upcoming rematch at M-1
Published time: 8 May, 2017 15:10
Edited time: 11 May, 2017 12:31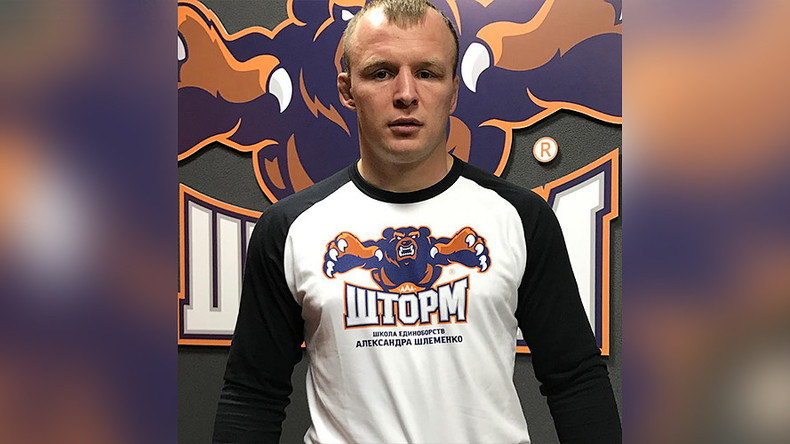 Russian MMA veteran Alexander 'Storm' Shlemenko, who is set for a rematch with American Brandon Halsey at the Russian MMA promotion M-1 Global's June 1 event in St. Petersburg, Russia, shared his thoughts on the upcoming bout with RT Sport.
Former Bellator middleweight champion Shlemenko, who has a professional MMA record of 55-9, last fought in the US organization in October of 2016, when he defeated American Kendall Grove by TKO in Round 2 of the main event fight in Memphis, Tennessee.
The 32-year-old MMA veteran is now fighting in his homeland more often under the M-1 Global label, and says he "enjoys it very much."
After defeating ex-Bellator Paul Bradley by unanimous decision in the Russian capital in March, Shlemenko is now set to face 30-year-old Brandon Halsey in Russia's second largest city, Saint Petersburg, on June 1.
Hasley was the last fighter able to beat the obstinate Russian in Shlemenko's long pro career. Back in September of 2014, 'Storm' stayed true to his character and endured the native Californian's choke until he lost consciousness in the first round, to add a second Technical Submission loss to his record.
Talking to RT Sport via Skype last month, Halsey, said he is looking forward to beating Shlemenko again, this time on his home turf.
However, when we reached out to the Russian fighter for comment, he dismissed Halsey's bravado.
RT: You have a fight in June, a rematch against Brandon Halsey. Describe your feelings coming to that fight.
Alexander Shlemenko: I am very glad. Only thing is, Halsey said that I've been begging him for a rematch. I wasn't begging him. I had issues with a third party. But now it's all behind. I know what went wrong in our first fight. I know it very well. And now I am ready to fix it. And, of course, I am glad that I've got such an opportunity. One thing that bothers me though – I have no certainty that Bradley will show up. So, I'd like to take this chance to say hi to him. He claims that he's a brave bad guy. I just hope that this bad guy has enough courage to show up at the fight.
RT: Where does this distrust come from? Do you have any information on that matter?
AS: I don't have any information, but I have a feeling, since I know this guy. And, in general, coming to Russia for American fighters is sort of a big deal, and not everyone is ready for it. So, I hope he is tough enough.
RT: But your last opponent, Paul Bradley, came to Moscow from the States and said he was more than happy with how everything was organized.
AS: Paul Bradley is a different kind of a fighter. A fighter with a lot of character. A fighter who goes all the way. Halsey is different, he just uses his strength and size advantage. But if it doesn't work for him, he gives up. He's not a champion. I don't consider him a champion. He got that Bellator belt by chance. I'd say I lost that fight to myself, rather than him winning it. He got that belt quick and easy. And he lost it in the same way. He got stripped of the belt even before his next fight for not making the weight. And then he couldn't get it back, losing in his next two fights. It just sums up what I said, pretty much.
RT: It's going to be a three-round fight. Would you rather fight five rounds?
AS: Yes, I would definitely want to fight for five rounds, and I've already said it. Especially with a fighter like Halsey, who has a significant size and weight advantage. By the way, I really doubt he will make weight for our fight. I really don't think he will make it. I wanted to fight five rounds, but M-1 made it a three-round fight, so I can't really do anything about it. Halsey said that, despite number of rounds, he will beat me up all that time. Let's see if he can stand by his words. And we will see soon.
RT: We see you fighting more often in Russia now. Do you know when you'll fight in Bellator next time?
AS: I don't have any certainty about my next fight in Bellator. Me and my manager have chosen to fight in M-1 rather than Bellator right now. I am glad to be a flagman for this organization and look forward to, hopefully, leading it to a new stage. I very much enjoy this role.