England 'Nazi gesture' fans banned for life by Football Association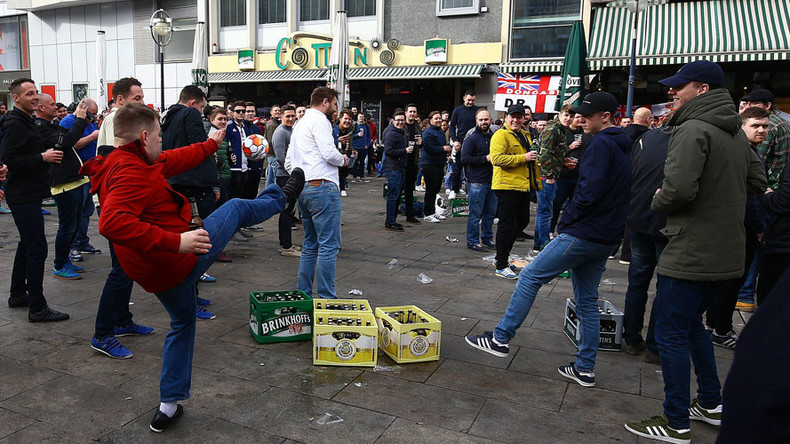 The English Football Association (FA) has for the first time imposed lifetime bans for two England fans found guilty of making Nazi gestures to opposition supporters during a game versus Germany.
March's friendly match between the two nations at Signal Iduna Park in Dortmund was marred by England fans booing the German national anthem, singing songs about the IRA (Irish Republican Army) and World War Two, and making gestures mocking the deaths of German war pilots.
The FA was able to identify 59 offenders in Dortmund with the assistance of the UK football policing unit and the German authorities, the Daily Mail reported.
Read more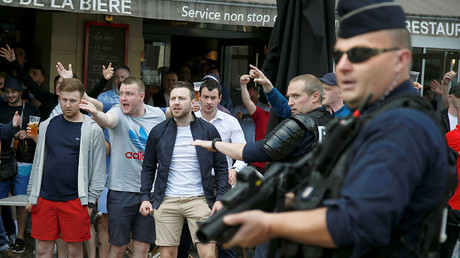 Lifetime bans from the England Supporters Travel Club (ESTC) were handed to two fans, forbidding them to attend away games. One of the fans was spotted making a Nazi salute to home supporters, while the other was accused of making 'Hitler-moustache' and cut-throat gestures, the BBC reported.
In total, 27 members have had their ESTC membership suspended – the only way to obtain tickets for away matches – with six handed written warnings and another case still pending.
Concerns have been raised about England's trip to face Scotland in their FIFA 2018 World Cup qualifier meeting at Glasgow's Hampden Park this Saturday at 5pm local time (17:00 GMT).
England fans have a total 4,761 tickets available for the game, with the FA believing it almost impossible to stop those with existing banning orders from traveling as there will be no usual passport surrender process for England away games.
The Scottish FA announced that there will be "increased security measures at Hampden Park will include bag and people searches" as well as making a request to UEFA to hold a minute's silence to honor the victims of the recent terrorist attacks in London and Manchester.
READ MORE: Russia blacklists almost 200 football hooligans for Confederations Cup
It was reported yesterday that Russia has added over 190 football hooligans to a blacklist for the upcoming FIFA 2017 Confederations Cup, which will be hosted across four Russian cities from June 17 to July 2.