Does English football need to blacklist homegrown hooligans from future matches?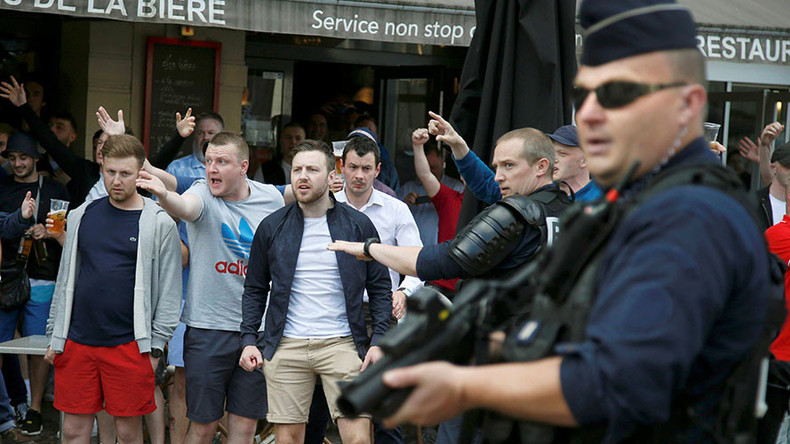 Last Wednesday, during England's friendly match versus Germany, English fans, for the apparent benefit of those lacking history-savvy, gave a crude reminder that their country and Germany had once been at war.
John Cleese, using his vehicle of fumbling hotel manager Basil Fawlty, mercilessly poked fun at failed British prudence when tasked with avoiding the topic in German presence, most memorably with the ageless catchphrase "don't mention the war."
These England fans ignored the advice and went straight to the funny-walk goosestep. When the melody of Deutschland played, they sang drink-charged ditties about how the 'RAF from England shot down 10 German bombers,' complemented by swaying, outstretched arms resembling doomed planes. The spectacle sadly continued into the first half of the game.
Songs were also sung about the IRA, infamous for committing deadly terror attacks across Great Britain that gutted major cities, injured dozens and killed civilians and off duty soldiers. Just hours before the game in Dortmund kicked off, police and brave passersby in London were sifting through the carnage left behind by the latest terror attack on British soil at Westminster.
England's delegation in Dortmund were, naturally, oblivious to their awful irony.
Those who were there noted these actions were done in alarming number. In his report on the game from Dortmund, The Independent's Ian Herbert reported that the vitriol was spouted in fact not from "an intellectually-challenged few" but "dozens" among the away contingent on that Wednesday night. He referred to them as "beer-fueled scum." He was correct as footage showed swathes of booze-addled, obsolete fans getting in on the act.
But what was most telling in the report was Herbert's summation, in reference to the 2018 World Cup in Russia next summer: "If you listen to those senior British officers already preparing to police England fans at the Russia World Cup next summer," Herbert writes, "you will find signs of genuine optimism...it is clear that Russian football police have a good intelligence network, know exactly where the criminal element resides and can handle these crowds with more sophistication than the outside world might think.
"It is England who present the problem."
Such candid acknowledgement of inherent problems in English football is unprecedented in the country's media. Herbert's words came in stark contrast to the impugning of Russian capabilities that has become as prominent as it has been petulant in the English press.
Recently, Andy Lines of The Mirror played the role of scaremonger extraordinaire in implying that those partaking in traditional celebrations of Maslenitsa - Russia's folk-style pancake festival - were "ultra yobs" training for World Cup aggravation and questioning whether Russia can eradicate the poisonous element of their support before World Cup 2018 comes to town.
Herbert's words, those of an English journalist resigned to the fact attention should be drawn to cancerous portions of English support, are indicative of how respected scribes there had grown tired of listening to smear campaigns and backbiting from hacks, and are instead focusing on more pressing, more real matters closer to home.
His words are significant indeed, given they formed the organic opinion of an informed, experienced member of their field. Russia were relieved of their duty to point out the darker features of English support in defense of the latest sullying of Russian competence; instead it had come innately and without spite. Herbert wasn't without support either. ESPN FC senior football writer Mark Ogden, formerly of The Telegraph, was one to air similar sentiments.
"The FA need to find a way to clean up their away support. They only embarrass the team and country they're supposedly representing. It's the same obnoxious herd every time. The Germans were embarrassed for us last night, not by us," Ogden tweeted.
The @FA need to find a way to clean up their away support. They only embarrass the team and country they're supposedly representing. (1/2)

— Mark Ogden (@MarkOgden_) March 23, 2017
So, in the words of Nikolay Chernyshevsky, "what is to be done?"
Should the English Football Association implement a system to purge their away support of the louts who plague it? It may sound like a tough ask, but why not? Russia created a blacklist for Russian and foreign hooligans that would be banned from attending 2018 World Cup games. Furthermore, 'FAN ID' - the initiative will give supporters access to matches and double as Russian entry visas for foreign fans for the Confederations Cup and World Cup - will leave no room for known troublemakers to infiltrate stadiums.
Should the FA take similar steps to ensuring fans who consistently create provocation are unable to travel to and pollute football grounds with their behavior, the World Cup will surely be safer. Not all responsibility should be heaped on the shoulders of Russia, but that what has been is being dealt with accordingly.
One of those British officers preparing to police England fans next summer mentioned by Herbert is Assistant Chief Constable Mark Roberts, Britain's National Police Chiefs' Council Lead for Football Policing met 2018 World Cup organizing committee Alexei Sorokin at Moscow's Luzhniki stadium in early March.
Roberts remarked he was sure the Russian organizers "will do everything possible to ensure the safety and security of fans" at FIFA's showpiece event, adding that it was a "great start and as the World Cup 2018 approaches, we'll be developing our relationship."
Russia is undoubtedly making huge progress regarding fan safety for the World Cup, and in doing so it is becoming increasingly difficult for the Western media to continue to create false consternation. Even Russia's Deputy Prime Minister Vitaly Mutko, the butt of many jokes by Russian football fans for his blundering, announced he had grown bored of the feeble attrition and refused to further lock horns with the likes of Lines, instead promising Russia will simply do its job: "prepare for the World Cup, not react to British media swipes."
To borrow an expression from Margaret Thatcher, when referring to the IRA, Mutko had decided to starve the red top rabble of the oxygen of publicity. Refusal to acknowledge such headlines is progressive. Refusal by the English press to acknowledge such problems exist within English support is not.
As the facade of faux-pas football hooliganism crumbles further, and each ounce of credibility is gradually wrung from Western slander, Russia is making headway to ensuring the 2018 World Cup is safe for all. It is finally being realized in England, where ill-informed mud-slinging is being discredited and treated with disdain by journalists of esteem, that a more disconcerting problem could come from within.
In the meantime, Russia will continue to worry about fan safety, presenting a festival of football, welcoming the world to its people and culture and maybe about pancakes. Much less will they care for their misrepresentation in the English press, and even less so about punch-ups.
Daniel Armstrong, for RT
The statements, views and opinions expressed in this column are solely those of the author and do not necessarily represent those of RT.