We'll ignore calls to boycott Russia 2018 World Cup, says Deputy PM Mutko
Published time: 29 Mar, 2017 18:50
Edited time: 29 Mar, 2018 16:12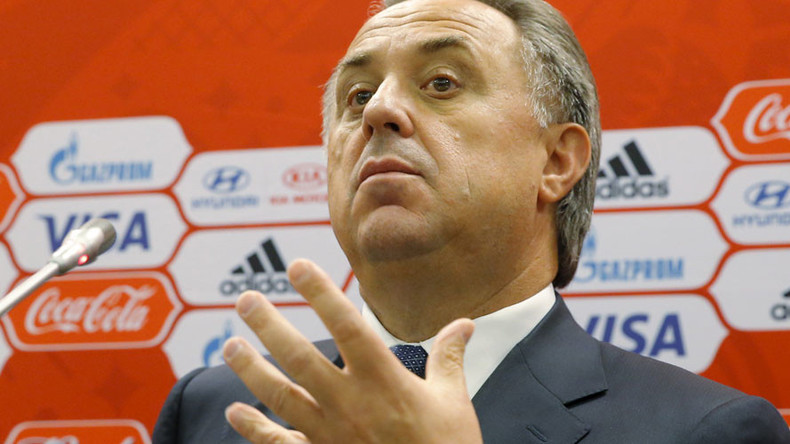 Russian Deputy Prime Minister Vitaly Mutko has called for calm in the face of suggestions to boycott the 2018 FIFA World Cup in Russia by some foreign politicians.
"We are making the World Cup, preparing it with all responsibility, in conjunction with FIFA, it is a FIFA project. We are not worried about anything," said Mutko on Wednesday, Interfax reported.
"We are making this World Cup in large for ourselves, for the legacy, for the future – we are developing the nation, building new modern airports, new stadiums.
"Let's move forward. The fact there are many politicians who wish to deny Russia something, isolate it, is understandable, we know this. But there is no need to pay attention to it, we need to move in our direction," he added.
German parliamentarian Michael Fuchs recently siad that in principle a country in which elementary civil rights are not observed should not hold any kind of World Cup, Sued Deutsche reported.
"A country that can not even guarantee the most elementary citizenship and fundamental rights should in principle not organize a world championship."
The boycott of international sporting events must remain "a rare exception," Fuchs added, "but Russia has been on a dangerous tightrope walk for quite some time."
Last week, Mutko declared that Russia would "prepare for the World Cup" instead of reacting to "British media swipes."
His words were in reaction to an article from British tabloid the Mirror, which used the traditional 'Maslenitsa' festival in a "shock investigation" into Russian football hooliganism, which featured a video depicting "Russian 'football fans' in bizarre refereed 'fights.'"
READ MORE: UK tabloid distorts traditional Russian pancake festival into 'Ultra' football thug fights
However, the fighting in the video and photos accompanying the article actually show festival goers engaging in a centuries-old Russian tradition called "wall-to-wall" ('stenka na stenku'), in which men spar dressed in traditional folk clothing.
The piece was the latest in a series of stories on the dangers Russian 'Ultras' allegedly pose to British football fans.
"Some people aim to discredit Russian sport, and this shows no signs of letting up soon," Mutko said, according to TASS.
"It is carried out in a constant manner, steadily and without thought. There is no point in reacting to every jibe. Instead, we will prepare for the World Cup responsibly and to a high standard," he said.