#ACityUnited: Manchester football teams jointly donate £1mn to emergency fund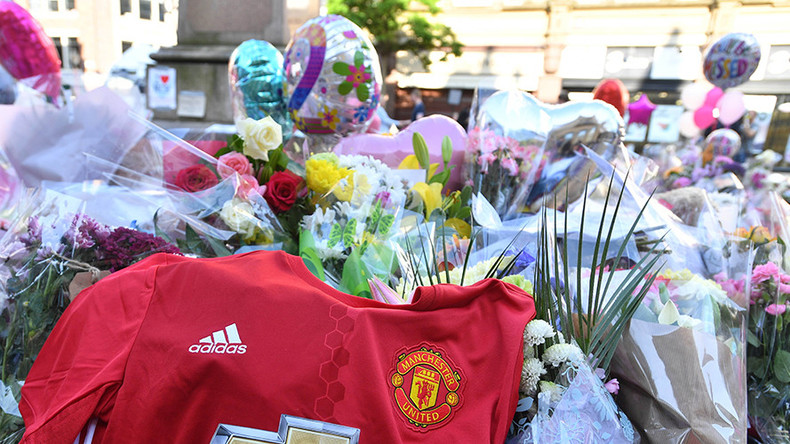 English Premier League clubs Manchester United and Manchester City have jointly donated £1 million ($1.3 million) to the 'We Love Manchester' emergency fund for the victims of the bombing in the city.
The fund was established in the wake of Monday night's attack in which 22 people were killed and 120 injured after a lone suicide bomber detonated an improvised device in the foyer of Manchester Arena following an Ariana Grande concert.
"The Red and Blue halves of Manchester have combined to support the city they have each called home for more than 120 years and which has been profoundly affected by the tragic events witnessed on Monday," the clubs announced in a joint statement.
"Under the banner of #ACityUnited, the two clubs will continue to explore opportunities to support the city at this testing time."
The We Love Manchester Emergency Fund, which is in collaboration with the British Red Cross, had raised £2 million, which includes over £1 million raised through the #westandtogether crowdfunding campaign by the Manchester Evening News newspaper.
READ MORE: Man City manager Guardiola 'in shock' amid reports wife & daughters were at bomb attack concert
"The hope of both our clubs is that our donation will go some small way to alleviate the daunting challenges faced by those directly affected and that our acting together will serve as a symbol to the world of the unbreakable strength of the spirit of Manchester," Manchester City chairman Khaldoon Al Mubarak said.
Manchester United executive vice-chairman Ed Woodward echoed those sentiments, saying "our clubs are right at the heart of our local communities in Manchester and it is right that we present a unified response to this tragedy."
On Wednesday, Manchester United won the Europa League final on an emotionally charged night in Stockholm, Sweden, against Dutch giants Ajax.
Goals from world-record signing Paul Pogba and Armenian midfielder Henrikh Mkhitaryan gave United the win, which also handed United a place in next season's Champions League.
A minute's silence was held before the game, in which both teams' players wore black armbands as a mark of respect.
Speaking directly after the game, United midfielder Ander Herrera issued a heartfelt message to the victims of the attack.
"I want to dedicate the trophy for the victims, this is just football, but what happened two days ago was horrible," the Spaniard said.
"We want peace in the world, we want a normal world, respect. I know we are no one, we are just football players but we have some audience, so from here I just want to say everyone to work together for a normal world.
"This happened in Manchester but everywhere we have to be a united world to fight for peace, for respect, for no more attacks and no more deaths please."
READ MORE: 'We stand together': Manchester sporting community pays tribute to concert bombing victims
In the immediate aftermath of the bombing, Etihad Stadium, the home of two-time Premier League champions City, located around 4km east of Manchester Arena, was used as a checkpoint for those affected. Locals provided food and water for families awaiting news about their loved ones.