'We stand together': Manchester sporting community pays tribute to concert bombing victims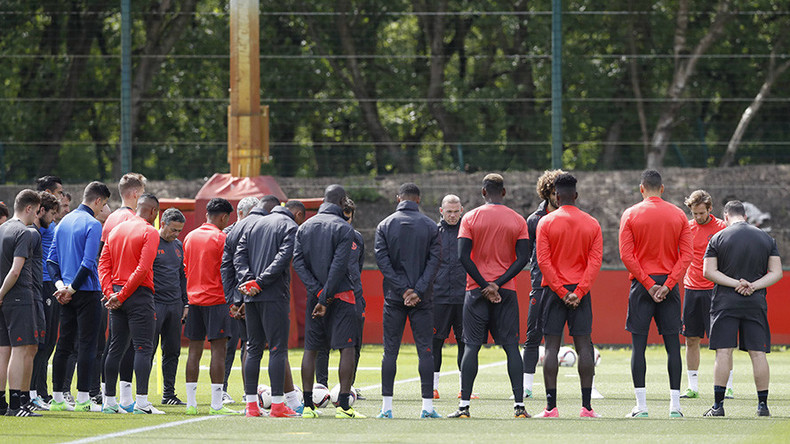 As Manchester suffered a deadly bomb attack at a concert in the heart of the city on Monday night, killing 22 people and injuring 59 others, its sporting community expressed its condolences to the victims of the blast.
Manchester – home to English Premier League teams Manchester United and Manchester City and host of the 2002 Commonwealth Games – was targeted by a lone suicide bomber who detonated an improvised explosive device at a concert by US singer Ariana Grande, which had just ended at Manchester Arena.
Those killed were fans leaving the venue, which is located close to Manchester Victoria railway station. The first of the victims to be named was 18-year-old Georgina Callander.
Later, eight-year-old Saffie Rose Roussos was confirmed to have died in the attack.
Leading tributes to the city and its victims was Portuguese football icon and current Ballon d'Or holder Cristiano Ronaldo, a Champions League winner with Manchester United in Moscow in 2008.
The Real Madrid striker, who played for United from 2003 to 2009 and also won three Premier League titles with the club, simply tweeted a British flag emblazoned with the name of the city.
He was joined in the gesture by another Champions League winner with United – David Beckham, who won the trophy in 1999 with the club.
"Heartbreaking news from Manchester. As a father & a human what has happened truly saddens me. My thoughts are with all of those that have been affected by this tragedy," Beckham wrote.
On Tuesday morning, United issued a club statement in which it offered its "thoughts and prayers" and announced the club's Old Trafford megastore, museum, and stadium tour will be closed to the public for the day.
"Everyone at Manchester United is deeply shocked by last night's terrible events at the Manchester Arena," the statement read.
"Our thoughts and prayers go out to all those affected, including our supporters, club staff and members of our community such as the children from our Manchester United Foundation partner schools who were attending the concert at the Arena."
Later on Tuesday morning, United held a minute's silence led by captain Wayne Rooney at their Carrington training complex before the team's flight to Stockholm ahead of their Europa League final against Ajax on Wednesday night.
The club has also called off a pre-match press conference due to the attack.
In a statement, European football's governing body UEFA confirmed that the match will go ahead despite security concerns raised by the Manchester attack, while ensuring there will be "additional security measures" implemented at the final.
READ MORE: 'You can't break us': Zenit visit site of St. Petersburg Metro blast in show of solidarity
"UEFA is shocked by last night's attack in Manchester. Our thoughts are with the victims and the families of those affected," the statement read.
"There is currently no specific intelligence which might suggest that any of the UEFA Europa League final activities in Stockholm may be the target of attacks.
"Due to the tight security arrangements, UEFA urges fans to arrive at the stadium as early as possible, as detailed checks will be made at the entrances, resulting in potential delays in accessing the stadium."
United's final opponents Ajax tweeted their solidarity: "From Amsterdam with love to Manchester. Our thoughts are with the victims and the loved ones of those affected."

United's rivals Manchester City also released a club statement, in which they offered their "thoughts and prayers" to the victims and informed people that the club's Etihad Stadium would be used as a support center following the tragedy.
"We have offered our full support throughout the night and this morning to the leaders of the City of Manchester itself and to the Emergency Services who are doing so much to support our city in these most challenging of circumstances," the club said.
There were reports of concerned locals bringing sweets, magazines and sandwiches for children waiting at the ground whose contact with family members was cut off by the blast.
The sentiments of the club were echoed by their players past and present.
Manchester City fan and British boxing great Ricky Hatton, who is from Manchester and won his first world title at Manchester Arena against Russian Kostya Tszyu in 2005, tweeted: "I'm a proud Mancunian and had memorable nights at the arena.the people are what make Manchester. Stay strong, proud and stick together."
Former England cricket captain Andrew Flintoff, who played for Lancashire CCC at Old Trafford cricket ground in the west of the city, praised fast-acting locals who offered help to those affected by the blast.
"In the toughest of times the people of Manchester showing why this is such a great city , standing together in the face of such evil," he tweeted.
Olympic champion sprinter Darren Campbell, who also won gold at his home Commonwealth Games in 2002, expressed his dismay at the attack, tweeting: "Waking up to the sad news from last night, my heart, love & prayers go out to all those affected."
Police confirmed that a 23-year-old man had been arrested in connection with the attack.