Man City manager Guardiola 'in shock' amid reports wife & daughters were at bomb attack concert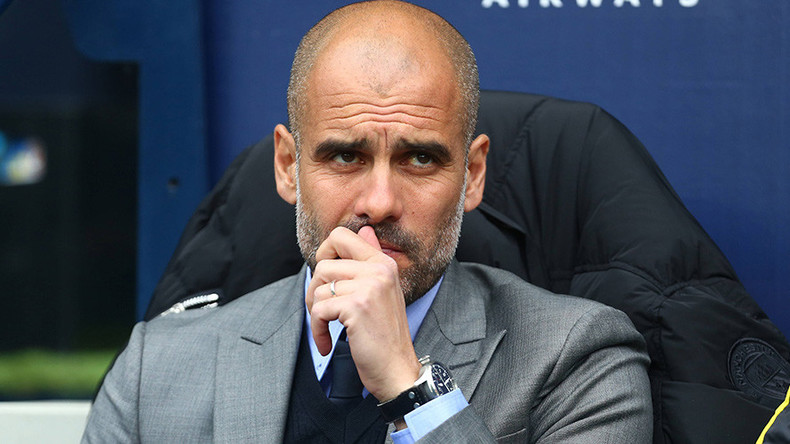 Manchester City manager Pep Guardiola is "in shock" after it emerged that his wife and their two young daughters were attending the Ariana Grande concert hit by a suicide terrorist attack in Manchester city center on Monday.
Guardiola's wife, Cristina Serra, and their two daughters, Valentina and Maria, were among the thousands of fans at the Manchester Arena to see Grande perform on Monday night.
At around 10.30pm local time, a suicide bomber detonated an improvised device in the foyer area of the venue, resulting in the deaths of 22 people and injuring dozens more.
READ MORE: 'We stand together': Manchester sporting community pays tribute to concert bombing victims
Cristina, Valentina and Maria were all later reported to be safe and unharmed, but it is unclear whether they were still at the venue when the explosion hit, the Telegraph reported.
The club has declined to comment on the reports.
Since the immediate aftermath of the attack, Manchester City's Etihad Stadium has been used as a support center following the tragedy, and the club has offered its "thoughts and prayers" to the victims in a statement issued on Tuesday.
The first of the victims to be named was 18-year-old Georgina Callander. Later, eight-year-old Saffie Rose Roussos was confirmed to have died in the attack.
The thoughts and prayers of everyone at MCFC are with those affected following the horrifying events of last night.https://t.co/KzFQY6ZG2K

— Manchester City (@ManCity) May 23, 2017
Spaniard Guardiola arrived in Manchester to take over as manager at City in the summer of 2016, following successful spells at Bayern Munich and Barcelona.