'Treated as if we had beer thrown at our coach': Dortmund slams UEFA rescheduling after bomb attack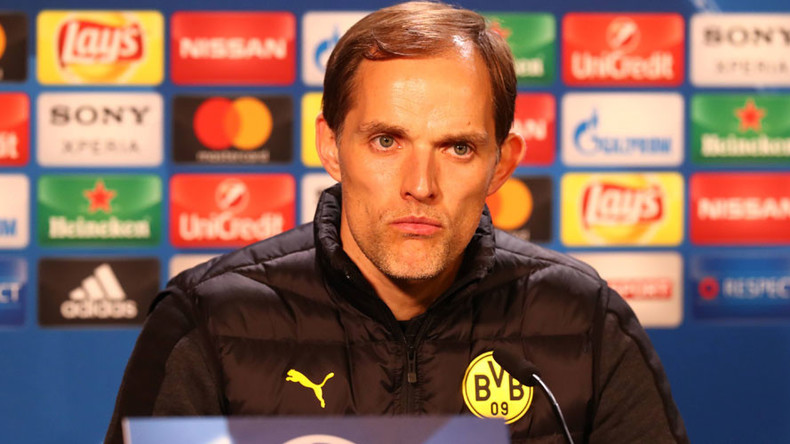 Borussia Dortmund manager Thomas Tuchel has reacted angrily to UEFA's decision to reschedule his side's Champions League match with Monaco just after their team's bus had been targeted by a bomb attack.
Three explosive devices went off near Dortmund's team bus as it was transporting players to their match with Monaco on Tuesday evening, causing defender Marc Bartra to require surgery to his arm and wrist.
UEFA rescheduled the game for the following day, prompting Tuchel to accuse the organization of reacting as if someone "had thrown a beer on our coach" rather than blow up the team's bus.
"We were informed by text message that Uefa was making this decision," Tuchel said, the Guardian reported.
"We would have liked more time to take stock. This gives you the feeling of impotence, that we have to keep functioning and nothing else matters.
"A decision made in Switzerland that concerns us directly. We will not forget it. It is a very bad feeling. A few minutes after this attack the only question that was asked was: 'Are you ready to play?' As if we had thrown a beer on our coach," he said.
Tuchel says the date was imposed on his team despite the fact that his players still felt shaken.
UEFA announced that the game had been rescheduled on their official site.
"Following Tuesday's incident involving the Borussia Dortmund team bus, the UEFA Champions League match between Borussia Dortmund and AS Monaco FC has been postponed until Wednesday at 18:45 CET.
"This decision was made after a meeting held at the BVB Stadion Dortmund between UEFA, representatives of the two clubs and local authorities," the notice said.
Dortmund lost the rescheduled game 3-2 with goals from teenage sensation Kylian Mbappe and an own goal from Dortmund keeper Stephen Bender canceling out goals from the host's Ousmane Dembele and Shinji Kagawa.
Speaking after the game, Tuchel stressed that it wasn't easy for his players to mentally regroup to play the match after being targeted by a terrorist attack.
READ MORE: Centurion - Ronaldo becomes 1st player to score 100 European goals
"It required a lot of bravery and courage, and we showed that tonight," Tuchel said.
"Perhaps it also helped us to do something and distract ourselves with football for the 90 minutes. In the second half in particular, my team did very well. Unfortunately, after the events of Tuesday, we were not in the best condition."
Dortmund midfielder Nuri Sahin was visibly emotional speaking to reporters after the game.
"I wouldn't wish what happened to us yesterday on anyone. It only really dawned on me how lucky we were when I came home and saw my wife and son standing in the doorway," he said.
"I know football's like this and we have to continue. But it's important not to forget that we're just human beings too. It wasn't a nice feeling to have to play so soon after what happened. Marc, we're all thinking of you," he added.
Marc Bartra issued an update yesterday following his surgery thanking fans for their well wishes, with the message that he is "doing much better."
READ MORE: 'Doing much better': Smiling Dortmund bomb attack victim Marc Bartra posts update
German prosecutors later reported that they had arrested an Iraqi in connection with Dortmund bus attack who had allegedly led an ISIS (Islamic State, formerly ISIL) unit responsible for numerous abductions and killings.