Football fans united by #BedForAwayFans campaign in face of Dortmund bomb attack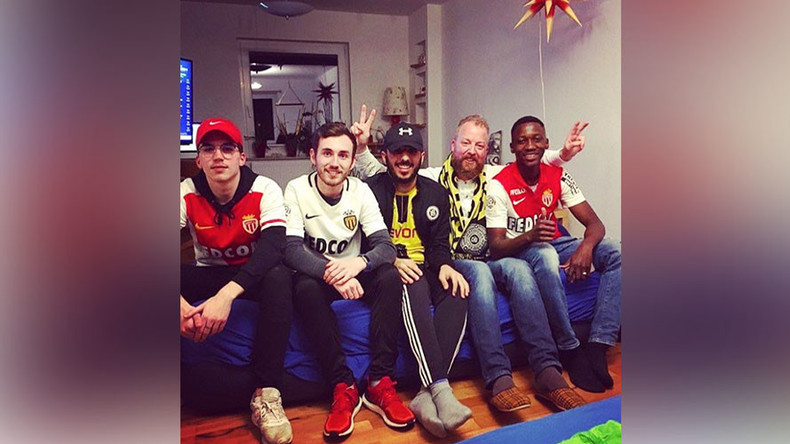 After a bomb attack on Borussia Dortmund's team bus caused their Champions League match versus Monaco to be rescheduled, quick-thinking and kind-hearted German fans stepped up to give temporary homes to traveling supporters.
Shortly before the UEFA Champions League quarterfinal match between Dortmund and Monaco, originally scheduled for Tuesday night at the former's revered Signal Iduna Park stadium, three blasts ripped through the Dortmund team bus.
READ MORE: Rostov fans unfurl banner at Man Utd game inviting British supporters to World Cup
Dortmund defender Marc Bartra broke the radial bone in his arm and had debris lodged in his hand from the blast in what police later called a "targeted attack"on the team bus.
Amid safety concerns for 65,800 sell-out crowd and players alike, the match was rearranged for the following day, Wednesday, April 12 and Spaniard Bartra underwent a successful operation on his injuries that night.
"We're all in shock and our thoughts are with Marc. We hope that he will make a speedy recovery," said club captain Marcel Schmelzer in a statement on the club website.
The explosives used in the attack were later reported to be pipe bombs with a 100-meter range and police have since arrested one suspect in connection, the Guardian reported.
The rescheduling of the match left many traveling from the principality facing an extra night in Germany and without accommodation for the night.
Nevertheless, a lifeline appeared in the form of generous German fans offering to put members of the Monaco faithful up until the match was replayed through an invitation on Twitter.
Dortmund's official Twitter account posted the notice: "Dear supporters of Monaco! If you need accommodation in Dortmund, please check #bedforawayfans" and the hashtag was picked up by those in need of an emergency bed.
Pictures circulated on social media of fans of both teams clad in their respective team's shirt enjoying meals and drinks together.
The French Ligue 1 club also announced they would reimburse fans to the tune of €80 for their troubles and both clubs received praise for their efforts to accommodate the inconvenience.
The camaraderie among fans was reminiscent of the meeting between English Premier League side Manchester United and Russian team FC Rostov in March.
Back then, Rostov fans issued travelling United fans with blankets as a 'warm welcome' during their Europa League round of 16 first leg in the southern Russia town.
Dortmund Police Chief Gregor Lange and Public Prosecutor Sandra Lücke announced his team's first findings from the attack on Tuesday evening.
"We do not know about the background to the attack," Lange said. "At 19:15 CET, there were three explosions in the vicinity of the hotel in which the [Dortmund] team had been guests and were leaving to travel to the stadium.
"The stadium and the surrounding area remain the focal point for police. We're preparing a major police presence for [the rescheduled game] and will do everything humanly possible to ensure the match can take place safely."
Police later reported that they were investigating an "Islamist link" to the explosions. Lücke reported the "discovery of a letter," which is being "checked in detail for authenticity."