'Doing much better': Smiling Dortmund bomb attack victim Marc Bartra posts update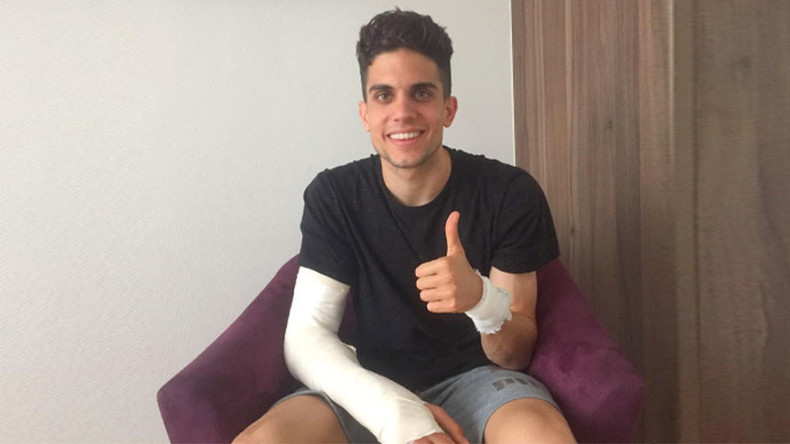 Borussia Dortmund player Marc Bartra - who was injured when the team bus he was traveling on was hit by a bomb attack on Tuesday - has told fans he is "doing much better" following surgery on his injuries.
Spanish defender Bartra suffered a broken bone in his arm and shrapnel became lodged in his hand when explosions rocked the Dortmund team bus as it headed to the team's UEFA Champions League quarter-final match against French side Monaco.
The match at Dortmund's Signal Iduna Park stadium was subsequently rearranged for the following day amid safety concerns and Bartra immediately underwent an operation on Tuesday night.
Today the former Barcelona man assured fans on social media that he is "doing much better" by posting a picture - with bandages to his arm visible - of him giving a thumbs up and smile with a message of thanks.
"Hello everybody! As you can see I am doing much better. Thank you everybody for all your support and your messages! All my strength to my teammates, supporters and fans and to BVB for tonight's match!"
It is expected Bartra, 26, will be out for several weeks owing to his injuries.
"Bartra is feeling better today, however, but he will be kept under observation for some hours more in the hospital before being discharged," Borussia Dortmund CEO Hans-Joachim Watzke explained in an official statement.
"We're not just playing for ourselves tonight (against Monaco). We're playing for everyone, whether they're Borussia Dortmund, Bayer or Schalke. We want to show that terror and hate shall never determine our actions. And of course, we're playing for Marc Bartra, who wants to see his team win!
"The team has had to come to terms with something incomprehensible in the shortest possible time. We all need to help them to perform as well as they possibly can."
The rescheduling of the match left many traveling from Monaco facing an extra night in Germany and without accommodation. But generous German fans offered to put those traveling from the principality up until the match was replayed, through the "#bedforawayfans" Twitter hashtag.
German police later announced that they had arrested one suspect with what prosecutors described as links to "the Islamist spectrum," the Guardian reported.
"I've just been in the changing rooms and called on the team to show everyone out there that we will not give in to terror," Watzke added ahead of Wednesday's rearranged game.