'You can't win with three white guys' – father of basketball prospect in bizarre rant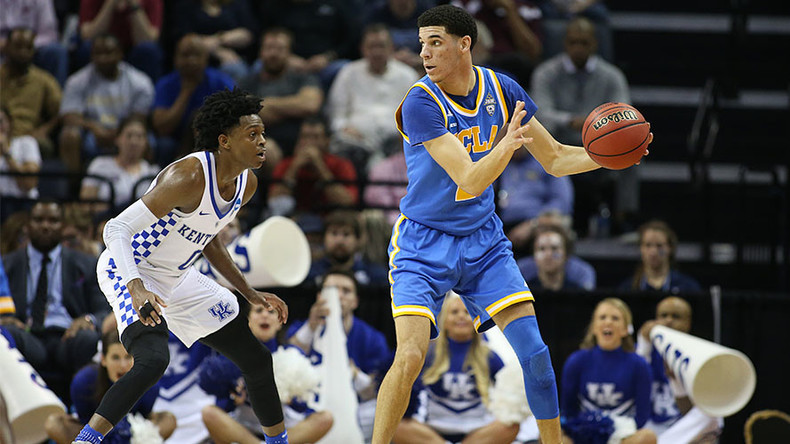 The father of highly-rated basketball player Lonzo Ball has blamed his son's UCLA Bruins' loss in the national championships on "slow white guys" in the team.
Following the Bruins' 86-75 defeat to Kentucky in the Sweet 16, contested by the last 16 teams left in the NCAA tournament bracket, Ball Sr. let rip on his son's teammates for the loss.
"Realistically you can't win no championship with three white guys because the foot speed is too slow," LaVar Ball told the Inland Valley Daily Bulletin.
READ MORE: NBA great Charles Oakley released after courtside skirmish results in arrest and jail
"I told Lonzo - 'One of these games you might need to go for 30 or 40 points.' It turned out that was the one game. Then once they get to the Elite 8 (the next round of the NCAA Tournament), they're right there.
"People thought he was giving up, but he popped his hamstring. He said 'I was trying to run, but my hamstring was pulled.' But he's never going to make excuses," he added.
Twitter has been keen to criticize the comments.
LaVar Ball says his freshman point guard son was unable to perform to his best due to a hamstring injury suffered during the game and that his teammates were unable to compensate.
He was presumably referring to UCLA starters TJ Leaf, Bryce Alford and Thomas Welsh, who combined for 39 points in the loss on March 24.
Ball finished his final college game with 10 points, eight assists and four turnovers, being somewhat overshadowed by his Kentucky counterpart, De'Aaron Fox, who scored 39 points, a record for a freshman in the NCAA tournament.
The elder Ball has been outspoken in the past about his son's abilities. He previously said his eldest son was going to be better than Golden State Warriors' Stephen Curry, and claimed he wanted a $1 billion sponsorship deal for Lonzo and his two younger brothers, who are also basketball players.
LaVar Ball told the Southern California News Group before the season that UCLA would win the national championship.
On March 30, six days after the Bruins' loss, Lonzo Ball announced that he would declare for the 2017 NBA draft.
"After much thought and discussion with my family, I have decided to declare for the 2017 NBA draft with the intention to sign with an agent," Ball Jr. tweeted.
"I want to thank my UCLA family for a great season and for all of their support! #ThankYouBruins."