NBA great Charles Oakley released after courtside skirmish results in arrest and jail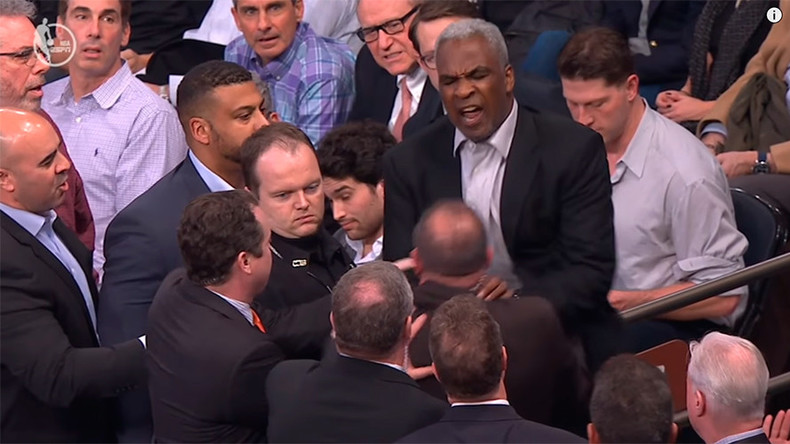 Basketball great Charles Oakley has been freed after a courtside altercation resulted in the former New York Knicks forward spending the night in jail.
Oakley had been attending the Knicks vs LA Clippers game at Madison Square Garden, New York City, on Wednesday when he became involved in a physical altercation after allegedly going after Knicks owner James Dolan.
TV footage shows the 6ft 8in Oakley gesticulating in the stands as security move in to surround him. In the ensuing altercation, Oakley can be seen pushing a man in an orange tie in the face area.
When a second man then approaches him, Oakley aggressively pushes away his hands.
The 53-year-old is seen to do this to the man twice more before being accosted by the first man and then forcefully escorted out of the arena by the group of security guards.
In response to the argument, a tweet from the New York Knicks' official PR Twitter account read: "Charles Oakley came to the game tonight and behaved in a highly inappropriate and completely abusive manner.
"He has been ejected and is currently being arrested by the New York City Police Department. He was a great Knick and we hope he gets some help soon."
The New York Police Department (NYPD) said Oakley was arrested and charged on three counts of third degree assault. Later, US Sports broadcaster ABC reported that Oakley had been released from Midtown South Precinct shortly after midnight.
"What happened is me and four friends went to the game tonight, to watch the Knicks and Clippers. We did sit down, trying to have a good time. Next thing I know I was asked to leave the building," said Oakley, who also played for the Chicago Bulls and Toronto Raptors during a 19-year NBA career.
"I asked, 'Why?' and they said, 'You have to leave because someone ordered you to leave.' And I'm like, 'I've been here four and a half minutes."
Oakley claimed not to know the reason he is "not welcome into the Garden," but it is understood that he does not get on well with the Knicks management.
READ MORE: Man United removes plaque commemorating legendary coach from directors' box
Fans showed support for their idol, who played 10 seasons with the Knicks from 1988-98 and was a key player and a fan favorite during their championship run in 1993-94, by chanting, "Oakley! Oakley!" as the Cleveland, Ohio native was ejected from the Garden.
You can share this story on social media: