'I want my next fight in England for Fight Nights' – British MMA starlet Jack McGann
Published time: 2 Apr, 2017 20:11
Edited time: 30 Mar, 2018 15:04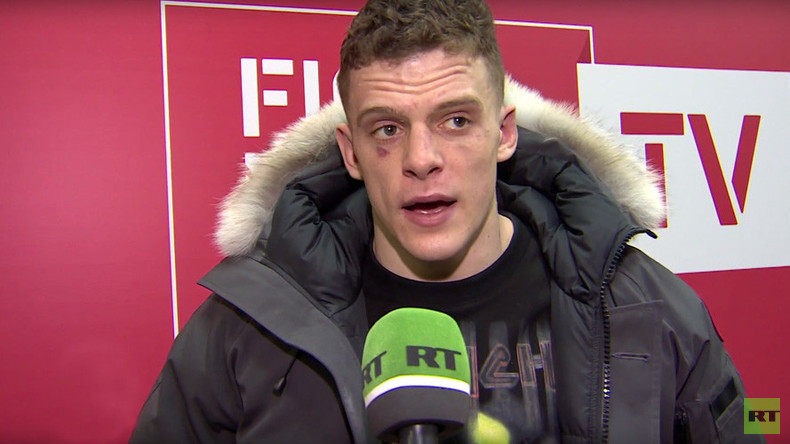 Explosive young MMA fighter Jack McGann has said he wants his next fight with Russian promotion Fight Nights Global to take place in England after dropping a close points decision at the Fight Night 62 event in Moscow.
READ MORE: 'We're Fight Nights Global, forget Eurasia': MMA promotion president Kamil Gadzhiev to RT Sport
The 23-year-old fighter from Liverpool, England, traveled to the Russian capital to compete in the latest Fight Night event on Friday, March 31, where he lost a unanimous decision to US-based Georgian Levan 'The Hornet' Makashvili by identical scores of 29-28 on the judges cards.
It was the first time fighting at featherweight (146 lbs limit) for McGann, who has ten big knockouts from his eleven wins since turning professional in 2012.
Fighting is a family affair for McGann; he fights out of the Wolfslair MMA Academy in North West England, which is run by his father and trainer Anthony. In the lead up to his fight on the fight Nights 62 event, he received messages of support from British actor Tom Hardy.
McGann goes by the nickname 'The Pilgrim' and it's easy to see why: he has fought his last four bouts in Russia, not in his home country since November 2015.
Speaking to RT Sport in the immediate aftermath of the Makashvili fight, McGann expressed his desire to take Fight Nights back to England for his next outing with the promotion.
RT: Explain to us how the fight with Makashvili went and how do you feel afterwards?
Jack McGann: I feel great, this is my first fight at featherweight, where my career will stay. I thought I won the fight, you know. He got a few takedowns. but he didn't do anything - nothing the ref stood it up and that's not me being bitter I'm a fair guy and I do believe I won the fight but you know I'm in Russia and I got beat on decision - it happens I'll be back.
RT: Your stand-up game seemed to be on point tonight, there was just a few times where he took you down. Do you think that's where the fight might have been won or lost in the judges eyes?
JMcG: Yeah definitely, you know I think when i watch it back I'll see myself punching him from one post to the other. I do believe the stand up was 100 percent me and yeah he got a few takedowns but i was straight back up, so you know that's obviously where the judges scored it but I believe I won. I believe I won.
RT: If you had a choice right now who would it be would it be Makashvili for your next opponent, would you want that rematch straight away, would it be here we've heard you talk about Fight Nights coming to England, where would you want to be with who, is it too early yet to say?

JMcG: If I thought Makashvili again I think it would be exactly the same. He's just a blanker. He done what he done to win, fair enough, but it will be the same. I think most guys, I'm that far ahead with my striking, they will just come in and lay and pray, so who it is next I don't know, but I would like to fight them in England and get them over.
I wanted to get a better performance, maybe a knockout and have a stronger campaign for that but, we'll see what happens next but I definitely want to have my next fight in England for Fight Nights.
RT: As you said you're a step ahead of anyone else with your striking game, it seemed to be leagues above Makashvili today, do you think that those who stay on their feet, those who have a boxing background, have some sort of edge over fighters who look for the takedown every time?
JMcG: Yeah and not so much even in a fighting perspective. At the end of the day, all these people who came here tonight and buy tickets wanna see fights - people fighting. Not people getting takedowns and lying on top of someone else. That's not me being bitter.
I mean, I look at it as: I'm an entertainer, I want to put a show on and you do that on your feet. That's how I've been brought up. That's what my game plan is going into fights and that's what it is going to stay as. I'm never in a boring fight on my behalf and I will keep doing the same thing: putting on exciting fights.