'We're Fight Nights Global, forget Eurasia': MMA promotion president Kamil Gadzhiev to RT Sport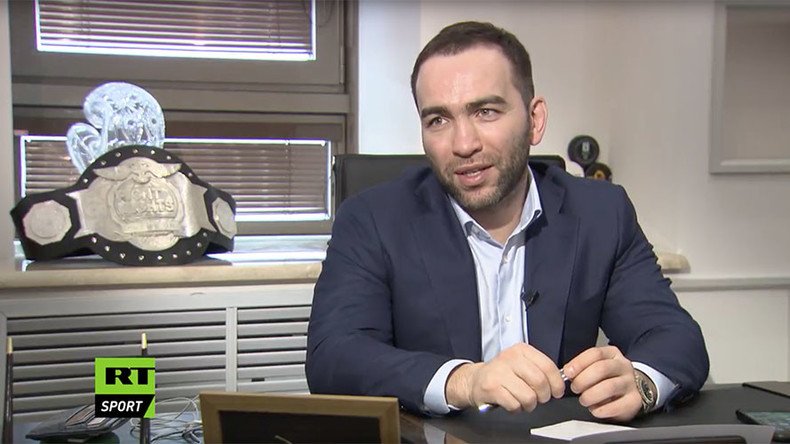 In an exclusive interview with RT Sport, Fight Nights Global president Kamil Gadzhiev discusses the company's name change from 'Eurasia' to 'Global', working with the Eagles MMA team, signing the UFC's Nikita Krylov and Ali Bagautinov, the current status of Rasul Mirzaev and much, much more.
Founded in 2010 by Sambo champion Gadziev and kickboxer Batu Khasikov, Fight Nights Global is one of three leading Russian mixed martial arts promotions, and to date has organized over 60 events inside and outside the country.
Formerly known as Eurasia Fight Nights, the company hosted its first 50 tournaments in Russia, with only two exceptions: Georgia and Slovakia. The promotion later made the 'Global' change to its name, and now is aiming to go international.
Talking to RT Sport, Fight Nights Global president Gadziev broke down the promotion's name change, current activities and future plans.
RT: Most people know your promotion as Eurasia Fight Nights, but your logo says Fight Nights Global. How did it come about that your promotion is known by two names?
Kamil Gadzhiev: To be honest, that's a question that bothers us as well. A lot of people heard about us after the Eurasia Fight Nights 50 tournament at the St. Petersburg International Economic Forum last year. Fedor Emelianenko was taking part at the event and so the tournament attracted attention, as did the company as a result.
But by that time we were already moving from working in Eurasia to hosting events worldwide, so we took on the name Fight Nights Global, although we still used the Eurasia name for a short period. It stuck with people for some reason and it really takes time to explain the difference. I hope after this interview people will finally learn that we are Fight Nights Global or simply FNG.
RT: In 2007 you founded the company with Batu Khasikov, plus there are a few other people in your management structure such as Sangadzhi Tarbaev, Sergey Shanovich and Sergey Arsenyev. How do you share responsibilities?
KG: I have to say we're lucky to work with such an amazing team of professionals, where everyone adds their own expertise to a certain aspect of the project. Batu Khasikov adds his sports expertise, Sangadzhi Tarbaev brings an incredible amount of new ideas to our project, Sergey Shanovich creates the unique look of Fight Nights Global, and Sergey Arsenyev takes care of the financial side.
Since 2012 we've been working together with the Summa Group and its head, Ziyavudin Magomedov, who became the main owner of the company. That was a rather revolutionary move for the MMA industry in Russia as a whole and for Fight Nights Global in particular. Mr. Magomedov is a real fan of sport, so we are where we are right now because of his ideas. But this is just the beginning. If people are wondering how exactly we make our decisions – sometimes we make them around this exact desk. The place can be different, but it's always that exact group of people.
RT: If this is just the beginning for your project, what do you see as the final aim for you? Where do you want Fight Nights to be in the future?
KG: Speaking globally, it's just the beginning. We believe our project and the whole MMA industry has a big future. Although we know that this path won't be an easy one, we already have solid experience. If we're talking about events, we have hosted over 60 tournaments already. But it's not just about the events, it's about all the situations we've been in throughout the years – the people, the contacts. Now we know where we want to go and where we want to be.
RT: Talking about going global, can we expect events in the US or Canada in the near future?
KG: Expansion is of course very important for us. We took on the Global addition to our name, so we should follow it. Next year, or by the end of this year, we should be in the US or Canada, plus we're aiming for Brazil and Europe. However, the main goal for us is to create a product that people will want to watch in any country, no matter where it's taking place. Whether it be Moscow, Lisbon or New York. The main thing is the quality of the broadcast, the event and of course the fights.
RT: Talking about events that can put you on the map, Fedor headlined your St. Petersburg event during the economic forum last year. This year it will be Vitaly Minakov and Bigfoot Silva. What else can we expect from that event?
KG: It's going to be a big event – St. Petersburg, July 2, Minakov versus Bigfoot Silva in a five-round heavyweight contest. To be honest, I'm looking forward to that bout as a fight fan too. Scheduled to appear on the same card is Nikita Krylov, Mikhail Mokhnatkin and Sergey Pavlovich – three fighters that are known quite well outside of Russia. (There's also) Diego Brandao, who made a big statement in his first fight with us. We're just waiting to find out who they will face. We have another big event ahead of us on March 31 in Moscow too.
The winners at this event most likely will join the St. Petersburg card at the economic forum. The forum gives it additional significance and allows us to take our sport to a different level. Last year our St. Petersburg event was visited by lots of people who had no idea about MMA, and now they're regular spectators. That's our motivation for making events during the forum.
RT: You mentioned Diego Brandao, who was supposed to fight Rasul Mirzaev in his Fight Nights debut. However, Mirzaev was savagely attacked just weeks before the fight and spent almost a month in hospital recovering. Is there any chance we'll see him on that card against Brandao?
KG: Everything relating to Mirzaev is under a big question mark at the moment because the situation is not really about MMA – it's about his health and well-being. The last time we spoke to him we agreed to return to the issue in April, when he'll begin training. Is a two-month period enough for him to prepare properly for such a serious opponent as Brandao? I don't think so. It would be too risky for him. But on the other hand, Rasul is 31 years old. He might have just a couple years to perform at his best. So he has to take chances.
RT: Ex-UFC fighter Nikita Krylov might appear on the St. Petersburg card. He previously called out Akhmat fighter Abdulkerim Edilov for his negative comments about Fedor Emelianenko. Now Edilov is in the UFC and Krylov is in Fight Nights. But Akhmat says Magomed Ankalayev will fight Krylov instead. Could we possibly see that fight at the St. Petersburg event?
KG: From what I know, this offer came from Ankalayev. At least that's what I've seen on his social media. Ankalayev is a solid fighter and a Russian and World Champion in amateur MMA with a good professional record. If he wants to have a fight with us and if Akhmat wants him to have a fight with us, we'd be happy to organize it. Krylov-Ankalayev would be an entertaining fight.
READ MORE: Controversy over children's MMA fights in Chechnya leads to UFC call out
RT: Another significant recent signing for Fight Nights is Ali Bagautinov. How did that come about?
KG: I can't say that we had difficult negotiations. Ali fought most of his career in Fight Nights before signing with the UFC. His brother Artur is also signed with us, who is by the way one of the flyweight belt contenders. So when Ali realized that he was not going to stay with the UFC, we spoke to him and signed him for two years. Now we have a solid roster in the flyweight division – fighters from the top 50 in that weight category. Plus we are looking to add more fighters to that division. So there should be a good level of competition. Ali's brother might become a title contender soon, so this might be a tricky situation for both of them. I just don't think two brothers will ever step into the cage to fight each other.
RT: Last November Khabib Nurmagomedov announced the creation of the Eagles MMA team, with whom Fight Nights is working closely. Can you tell us a little more about this?
KG: The team was created by Ziyavudin Magomedov and the Eagles MMA president is Khabib Nurmagomedov, who is also very close to us. Most of the fighters from that team fight in Fight Nights and we are open to any form of partnership. It's great that these fighters now have these patrons. That will allow them to attain a higher level in terms of sportsmanship, mentality, dealing with the media, everything. And we want to see more guys like that.
RT: Fight Nights 62 was headlined by two Eagles heavyweights – Sergey Pavlovich versus Mikhail Mokhnatkin (that bout was canceled three days before the date, due to the sudden death of Pavlovich's mother - Ed). Doesn't this defeat the object of promoting two fighters for Eagles MMA?
KG: At the same time their team will have a guaranteed heavyweight championship belt. The MMA industry has changed. Nowadays no one cares if you have 16 wins and no losses on your record. That could work for you 10 years ago. What's important now is who your opponents were. So I can assure you that both Pavlovich and Mokhnatkin would benefit from that fight. The only difference will be that one will take one step forward and the other one will take three. But both will gain huge experience. It's a big fight. I'm pretty sure Eagles MMA wants its fighters to face the best opponents and be in the limelight, and that is what we'd give them with this fight. No one is looking to give the fighters an opportunity to be undefeated. The industry doesn't work that way anymore.
RT: Speaking of Fight Nights 62, we know there will be a bout between two Russian MMA journalists, the second professional fight of Omar Nurmagomedov, Khabib's cousin. What else can we expect?
KG: We consider the fight between two journalists to be a bout between two MMA fighters. When they step into the cage they are MMA fighters. The only difference is that they have a journalism education. They don't have professional records as of yet. But every fighter has to start somewhere. The same thing with Omar Nurmagomedov. He had his first professional fight in a Fight Nights cage. The other thing is if you're a fighter with the surname Nurmagomedov, you're already a brand. People automatically see you as the next Khabib. It's a big, big responsibility. Omar has a serious opponent on that card, so I'm expecting a good fight. But at the same time we don't want Omar to copy Khabib in any way. We want every Nurmagomedov to be a star in his own right, not just someone's family member.
RT: You've been in the MMA industry for seven years. How do you see the development of MMA globally and in Russia over that period, and what do you see as the summit for the industry?
KG: The sky's the limit. I think Conor McGregor is a perfect example. Three or four years ago he was just an MMA fighter that no one knew about, and now he's a global celebrity. For the first few years after we started our project, we had to fight against stereotypes. It was like a war for us. I think that we won that war. Now people realize that this is a very interesting sport. The media is paying much more attention to us. Fighters become more socially active, more media-friendly. So now we just have to keep working hard and the results will come.
You can share this story on social media: