Controversy over children's MMA fights in Chechnya leads to UFC call out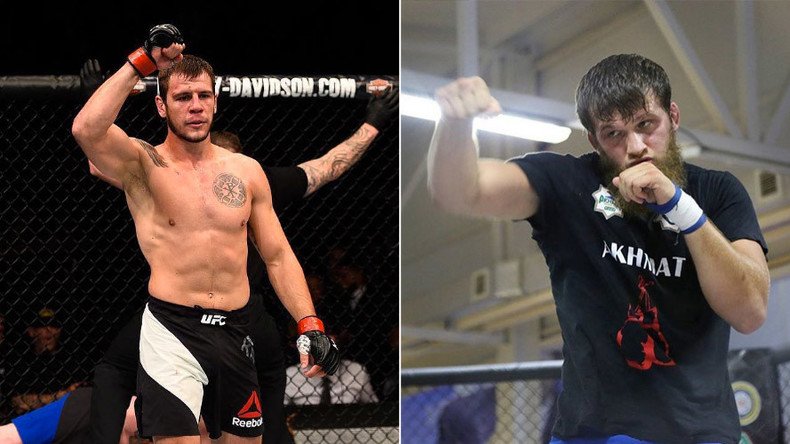 Since a statement was released by Fedor Emelianenko regarding the underage children in MMA fights that were organized during a martial arts event in Grozny, Chechnya, Russia's MMA community has been split in two, which has already led to a UFC call out.
It all started when Russian Mixed Martial Arts legend Fedor Emelianenko, who is currently the head of the MMA Union, the governing body of Russian MMA, released a statement on his social media account in which he criticized the organizers of an MMA event called "Grand Prix Akhmat 2016" that featuring MMA fights between children aged eight, nine, and ten.
In his statement, Emelianenko also personally addressed Chechen leader Ramzan Kadyrov, who was an honored guest at the tournament because his own kids took part in the bouts.
"What happened at the tournament in Grozny is unacceptable and, moreover, cannot be justified," he wrote on his social media account.
"Needless to say that kids under age of 12 cannot even attend MMA fights (in Russia) as spectators, but here we had little ones as young as eight beating each other up in front of happy adults."
According to the official rules of the MMA Union that were approved by Russian government, all athletes under the age of 21 must wear helmets and special ankle protection while participating in MMA, and children under 17 cannot perform shirtless.
"I am outraged by the fact that the head of Chechnya was watching over it. Didn't [the Chechen] sports minister tell him about the fact that children under 12 cannot participate in MMA under any circumstances?"
The child bouts were originally announced as an "exhibition fight," but video footage from the event has led to a massive negative outcry, and the Russian MMA community has divided into two groups – one that supports Emelianenko, and another that supports the Chechen side.
Abuzayd Vismuradov, the president of the Akhmat Fighting Club, which organized the event, stated that the kids' fights "were of an exhibition nature and only aimed at popularizing (children) sport in Chechnya."
Chechnya-born MMA fighter Abdul-Kerim Edilov was among others who took to social media to criticize Emelianenko's statement.
"I don't know what Fedor's concern was when he spoke out about those bouts," Edilov wrote in his Instagram post, which featured a picture of Fedor's bloodied face from his last fight with Brazilian Fabio Maldonado.
"Jealousy? Level of the fighters at the tournament? His absence on the guest list? An alcoholic intoxication? He knows better," he continued, adding "The things that he said are complete nonsense."
The strong criticism of Emelianenko, who is the most respected Russian martial artist of all time, sparked a new wave of angry messages on social media – this time against the Chechen backing side.
Among them was a Ukrainian MMA fighter of Russian descent, Nikita Krylov, who competes in the UFC's Light Heavyweight division with professional record of 21 wins and 4 losses.
"When you respond to Fedor's words, calling him names, posting pictures of the hardest moments of his career to make fun of him, what kind of example are you showing to kids?
"We are both signed with UFC, so we can solve this problem as sportsmen and as men. I don't like the way you are talking about the fighter I respect the most, thus I will be happy to meet you in the UFC."
"This way we will decide who should be a sportsman and who should (only) make posts on Instagram."
It didn't take long for Edilov, who signed with UFC last year, but hasn't competed yet, to accept the challenge.
"I don't care when and in which promotion we will fight," wrote Edilov in his Instagram.
"We won't do the show on social media, let's have a show in the octagon. Each (real) man should stand by his words; I hope you won't forget what you have said and we will solve our problem like real men and real professionals."
However, it is only possible for the pair to meet in spring of 2017 at the earliest, as Krylov's next fight is scheduled for December 10 as the part of UFC 206 in Toronto, Canada.
As tensions rose higher, Chechen leader Ramzan Kadyrov wrote a statement on social media to appeal for calm.
"Dear friends! I am persistently asking you and recommend that you not publish any posts that may affect the honor and dignity of Fedor Emelianenko. Firstly, I am addressing those who have done so under the influence of emotions, saying that they support us. If you do, indeed, support us, which I don't doubt, do not write things of that kind. And (please) delete your (earlier) posts. The conflict should not be escalated, the honor of the person (Emelianenko) cannot be affected," Kadyrov wrote on his Instagram.
You can share this story on social media: