MLB bans ritual of rookies dressing up as women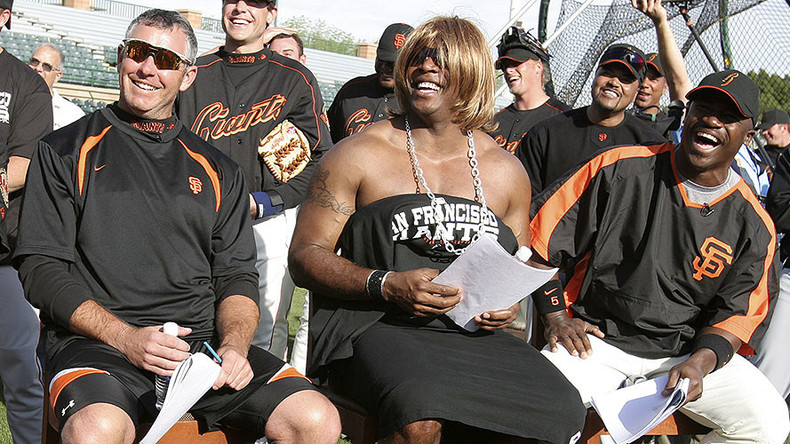 Major League Baseball (MLB) has introduced a new policy which will end the ritual of rookie players dressing up as women.
According to the Associated Press, the new five-year collective bargaining agreement between MLB and the players' union policy includes a ban on the practice of harsh initiation rituals known as 'hazing.'
READ MORE: Out of the park! Japanese baseball player smashes ball through stadium roof (VIDEO)

The agreement prohibits any practice "requiring, coercing or encouraging players from dressing up as women or wearing costumes that may be offensive to individuals based on their race, sex, nationality, age, sexual orientation, gender identity or other characteristic."
Paul Mifsud, a vice president of MLB, said the rise in social media usage such as Twitter, Instagram, and Facebook had seen an increase in the number of players pictured dressed up as 'Disney princesses' and that the new rules were designed to stop this.
"Although it hasn't happened, you could sort of see how like someone might even dress up in black face and say, 'Oh, no, we were just dressing up,'" Mifsud said, as reported by the New York Times.
"We've also understood that a number of players have complained about it."
Good move by MLB. I have always been ANTI HAZING. Some people call me soft...I prefer to call it humane.

— Gary Radnich (@KRON4GRadnich) December 13, 2016
The MLB will allow players to dress up as certain types of superheroes that are non-offensive, but the policy also stipulates that a player's willingness to take part in rituals forbidden by the agreement "does not excuse the activity from being considered a violation of the policy."
However, the agreement stops short of banning all traditions regarding rookies and players, and states that its purpose is rather "to prohibit conduct that may cause players physical anguish or harm, may be offensive to some players, club staff or fans, or are distracting to the operation of the club or MLB."
I looked forward to the whole dressing up as a rookie in the MLB! I never saw it as hazing, just some fun!

— Cody Ponce † (@Cody_Ponce48) December 13, 2016
San Francisco Giants television broadcaster Mike Krukow, a former pitcher for MLB franchise the Chicago Cubs among others, criticized the decision, saying the practice of dressing up was a "tradition."
"A lot of these kids come up out of the minor leagues having been there four or five years, they get to the big leagues and they cannot wait to put a dress on. They've heard about this, they want to be a part of it, it's a tradition," he said on the KNBR 680 radio station.
However, Hudson Taylor, the founder of the sport inclusiveness group Athlete Ally, told TMZ the new ruling should be welcomed.
"This is an important step on the pathway to creating a baseball culture in which players are not isolated, excluded or othered because of how they identify or who they love. I commend the leadership of MLB for taking a stand," said Taylor.
The new policy will be implemented from the 2017 season onwards.