Out of the park! Japanese baseball player smashes ball through stadium roof (VIDEO)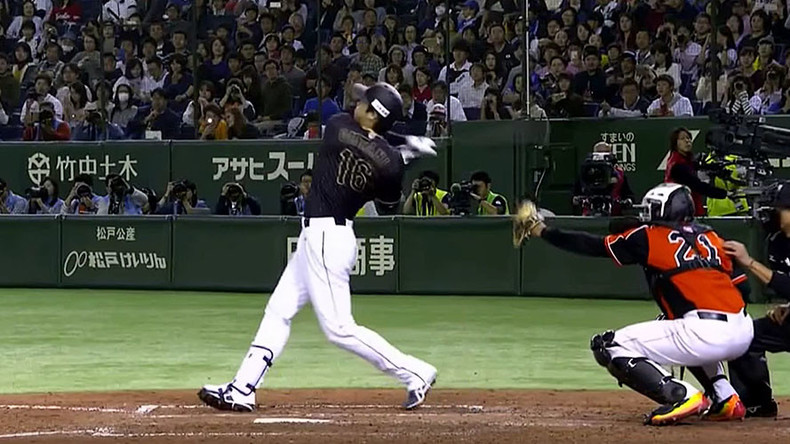 Baseball player Shohei Otani raised the roof in the Tokyo Dome in Japan vs Netherlands on Sunday, hitting the ball so hard it ended up disappearing from view.
Otani, who plays for Hokkaido Nippon-Ham Fighters of Nippon Professional Baseball's Pacific League, is widely considered the best player outside the USA's Major League Baseball (MLB).
READ MORE: 'Drought finally over': Internet reacts to Chicago Cubs win after 108yrs
And it's easy to see why after he smashed the ball through the roof panels of the Tokyo Dome, where the friendly game was being played.
Otani's strike whistled through the air towards the roof and seemed to disappear from view
Leaving spectators, including members of Otani's own bench, dumbfounded as to where the ball had ended up.
On closer inspection, the baseball had squeezed through an opening on the dome roof, which is a whopping 56 meters (183ft) tall.
But the 22-year-old's effort did not earn him a home-run, as the hit was ruled a ground-rule double, which is when two bases are awarded because the ball has left the field of play.
Japan defeated the Netherlands 12-10 in the game, going 3-1 in the four-match exhibition series also involving Mexico.
Otani, a 2016 Japan Series winner with the Nippon-Ham Fighters, also holds the record for the fastest pitch in Japanese baseball history at 165kph (102.5mph).
The right-handed pitcher/left-handed batter has already garnered something of a cult following, and is widely expected to join MLB in the next few seasons.