Chapecoense Stadium memorial: Thousands mourn as Colombian crash victims brought home (VIDEOS)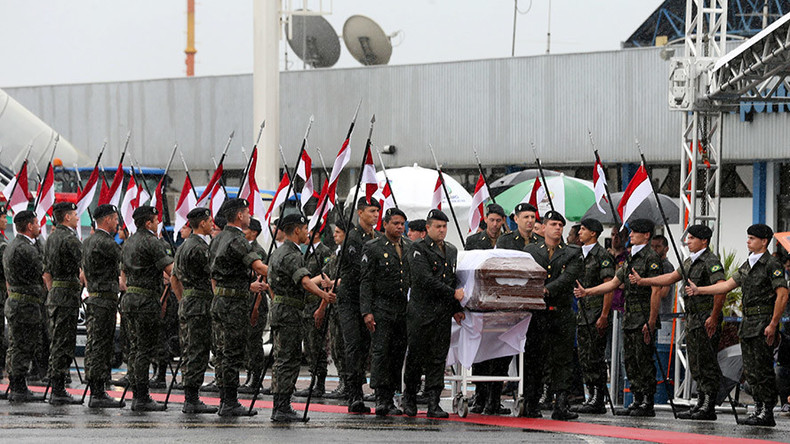 Hundreds of thousands of fans have united in grief at a special memorial at Chapecoense soccer stadium to remember the 71 people, including 19 players, who died in a plane crash in the Colombian Andes on Monday.
77 people were on board the aircraft as the Chapecoense soccer team traveled to Medellin for what would have been its biggest match in its history.
READ MORE: 71 dead after plane carrying Brazilian football team crashes in Colombia
The bodies of the victims arrived at Chapeco airport in southern Brazil on Saturday on a Colombian Air Force transport plane, where Brazilian President Michel Temer led a guard of honor.
Fifty coffins were then transported by a processions of vehicles to Arena Conda, the home stadium of the Chapecoense football team, where mourners stood in heavy rain to pay respects to the deceased.
Hundreds of banners, flags and hand-written messages were draped around the stadium as soldiers carried the coffins on to the pitch.
Young club supporters carried the team's flag onto the pitch, alongside the national flags of Brazil and Colombia.


Victims were also honored by stadium workers who walked onto the pitch carrying white balloons and wearing white T-shirts, each bearing the name of one of the deceased.
Chapeco Mayor Luciano Buligon gave thanks to Colombia for its support and told the crowd that "legends do not die."
Earlier this week, thousands of football fans gathered at the Atanasio Girardot Stadium in Medellin where Atletico Nacional, the team Chapecoense were travelling to play, held a special memorial.
READ MORE: Ronaldinho and Riquelme offer to come out of retirement to help plane crash team Chapecoense
Club staff and 20 Brazilian journalists were also killed in the crash, along with five Bolivians, a Venezuelan and a Paraguayan.
Investigations are ongoing to establish the cause of the accident however a recording from the pilot requesting urgent permission to land has led to suspicions that the plane ran out of fuel.