Ronaldinho and Riquelme offer to come out of retirement to help plane crash team Chapecoense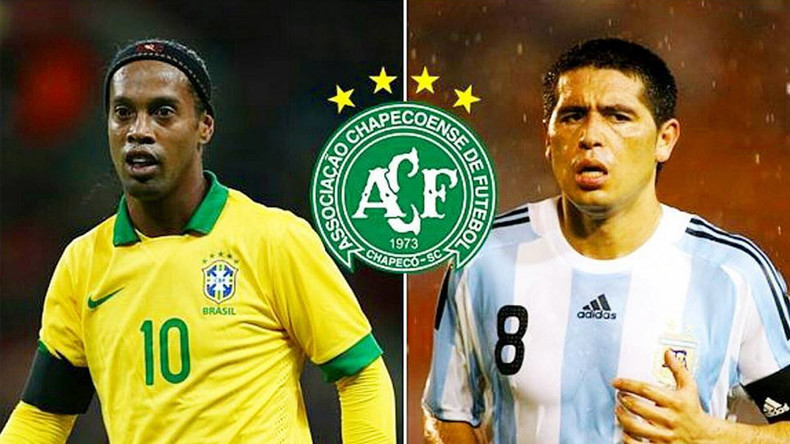 Brazil football icon Ronaldinho has offered to come out of retirement and play for Chapecoense, as the club looks to rebuild following the tragic plane crash in Colombia on Monday that killed the majority of their squad and coaches.
READ MORE: 71 dead after plane carrying Brazilian football team crashes in Colombia

According to reports, Ronaldinho could be joined by former Argentina star Juan Roman Riquelme in playing for the club for free.
Ronaldinho won numerous honors during a stunning playing career, including the 2002 World Cup, while Riquelme was capped 51 times by Argentina and named his country's player of the year four times.
The Brazilian's brother and agent, Roberto Assis, confirmed Ronaldinho is ready to help out the club in any way possible, although he admitted no discussions had taken place.
"It is a very difficult time,"Assis told Globo Esporte. "Later on, if there is a contact, we can talk.
Read more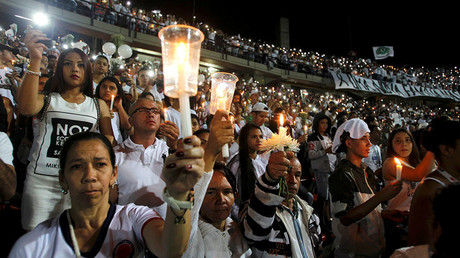 "I can only say that we are here and we want to help.
"[Ronaldinho] fits the profile, can be the right guy. But the moment is to help families and it would be [wrong] to create expectations for now. As Brazilians, we feel involved. We are together."
The plane crash killed 71 people – with only three of the club's players surviving. A fourth player – Danilo – died in the hospital after being rescued from the wreckage.
FIFA president Gianni Infantino will attend the funerals of the Chapecoense players on Friday after postponing his trip to Australia for the women's Under-20s World Cup.
Tributes to those killed in the crash have poured in from around the world, with new UEFA president Aleksander Ceferin amongst those who have passed on their condolences.
He confirmed that next week's Champions League and Europa League games will include a minute's silence before kick-off, and players are requested to wear black armbands.
READ MORE: Chapecoense plane crash: Crew of Brazilian team's flight skipped refueling to save time

"European football is united in expressing its deepest sympathy to Chapecoense, the Brazilian Football Confederation (CBF), CONMEBOL and the families of all the victims following this week's air disaster," Ceferin said in statement on uefa.org.
"This tragedy has shaken the world of football, and we would like to send our support to all of those affected by it."