Chapecoense plane crash: Crew of Brazilian team's flight skipped refueling to save time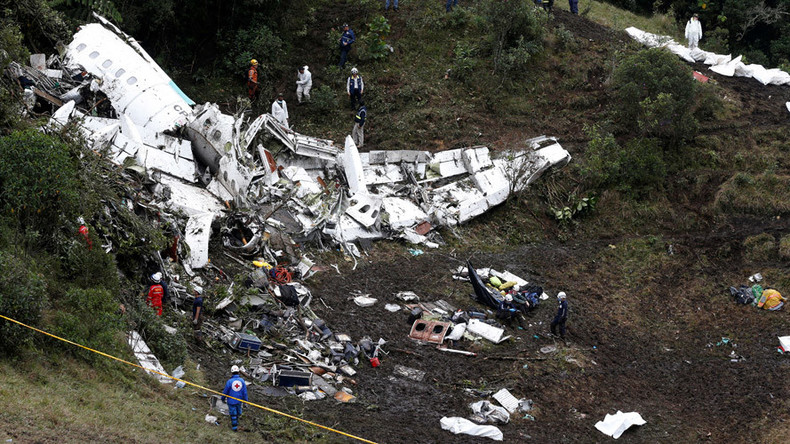 The pilot of the crashed LaMia plane carrying Brazil's Chapecoense team from Bolivia to Colombia chose not to stop for a planned refueling in violation of air safety rules, a Colombian watchdog said. The crew allegedly opted to fly non-stop due to a delay.
On Thursday, the Bolivian government suspended LaMia Airlines' license and also removed the executives of its aviation authority to ensure an unbiased investigation into the incident. LaMia is a Bolivian charter flight airline.
The plane, which was carrying 77 people, including most of the players on the Chapecoense team to the crucial final game against Atletico Nacional of Colombia in Copa Sudamericana, was supposed to stop to refuel in the Bolivian city of Cobija before taking off for its final destination.
"When the company, its representative in Colombia, submitted the application for authorization of the flight it was stated there that it [the plane] was coming from the city called Cobija," located "on the border with Peru and Brazil," the secretary of airline security at Colombia's civil aviation authority, Freddy Bonilla, said in an interview with Radio Belgrano, as cited by El Deber.
Bonilla noted that, as the flight had not been properly registered with Colombia's aviation authority, the agency "would not have authorized the flight the way it was given."
The tragic chain of events began when the Brazilian team was forced to take a charter flight from Bolivia to Colombia instead of a direct flight from Brazil, as it had intended, due to regulations of Brazil's civil aviation authority, ANAC, which forbid aircraft that aren't registered in the country of departure or arrival to conduct charter flights.
The Brazilian delegation decided to take a flight from Sao Paolo, Brazil, to Santa Cruz de la Sierra in Bolivia and then continue on a LaMia charter flight to Columbia. However, their Bolivian Airlines (BoA) flight from Brazil was delayed for more than an hour, arriving in Bolivia at around 7pm, Brazilian outlet O Globo reported.
This meant the LaMia plane could not fly to Cobija to refuel because the city's airport did not operate at night
According to O Globo, pilot Miguel Quiroga could have refueled in Bogota, but instead decided to fill the plane's tank to maximum and fly straight to Jose Maria Cordova airport in Medellin, saving about an hour.
According to an internal Colombian civil aviation document cited by Reuters, the flight path submitted by the pilot stipulated that the trip would take 4 hours and 22 minutes, the plane's maximum flight range. The agency allegedly urged LaMia Airlines to present contingency routes for the flight, bit was reportedly ignored.
It has emerged that the risky plan might not have ended in tragedy if not for an additional delay on the approach to Medillin airport.
A leaked recording of the conversation between Quiroga and air traffic control officer Yaneth Molina revealed that the pilot had asked to land immediately due to a "fuel emergency" shortly before running out of fuel completely. In the course of the conversation, Quiroga dodged Molina's question about how long he could still fly without landing, while repeating his initial request.
READ MORE: 1 dead after plane carrying Brazilian football team crashes in Colombia
However, there was also another plane that had requested emergency landing, and Molina decided to deny immediate landing to the LaMia plane, telling the pilot to hold on for seven more minutes. In the last few seconds of the frantic exchange, Quiroga said that the plane was "in total failure, total electrical failure, without fuel" before crashing some 30 miles away from the airport.
In a letter on Thursday, Molina said that he "did all that was humanly possible and technically necessary to preserve the lives of the passengers, but unfortunately my efforts weren't enough."
Per international air safety regulations, a plane must carry enough fuel to be able to fly an additional 30 minutes upon landing at its destination. Investigation teams working at the crash site have reportedly not found any remaining traces of fuel, which supports the main version of the events leading to the tragedy.

"In this case, sadly, the aircraft did not have enough fuel to meet the regulations for contingency," Bonilla said, as cited by Reuters.
Lamia Airlines flight 2933 crashed around 10pm local time on November 28, killing 71 people, including football players and journalists who were to cover their game. Only six people, including three Chapecoense players, survived.