Brazilian football team took doomed flight after being denied charter request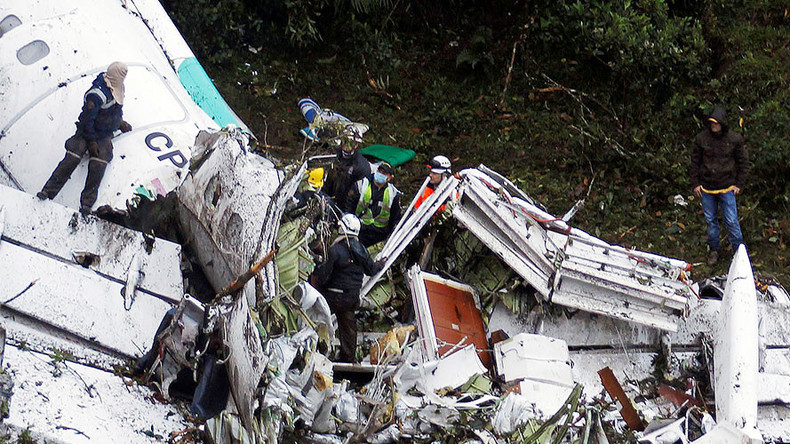 Brazilian football team Chapecoense took the flight which crashed near Medellin, Colombia only after their request for a charter plane was rejected by Brazil's civil aviation authority.
The team had requested to fly directly from Brazil to Colombia on a charter flight, but Brazil's civil aviation authority ANAC rejected the request because charter flights can be used only if the aircraft involved is registered in the countries of departure or arrival.
READ MORE: 75 feared dead after plane carrying Brazilian football team crashes in Colombia
ANAC explained in a statement that they had received a request for LaMia Airlines to charter a flight for the team from Brazil to Colombia on Monday but the request was denied.
"The request was denied based on the Brazilian Aeronautical Code and the Chicago Convention, which deals with air service agreements between countries," the statement reads, adding that as LaMia Airlines is a Bolivian company, it could not be the company to charter such a flight.
The agency said that "transport could be done by Brazilian airline and/ or Colombian, whichever the service contractor chose, in accordance with international agreements."
Unable to organize the charter, the team instead left Brazil from Sao Paulo Guarulhos International Airport before then taking flight LMI 2933 from Santa Cruz, Bolivia that crashed on its way to Medellin, Colombia, killing up to 75 of the 81 people on board.
The aircraft is said to have undergone an inspection before leaving Bolivia and no issues were detected.
The aircraft was a British Aerospace 146 short haul plane operated by LaMia. It lost radar contact at about 10 p.m. local time Monday which aviation authorities said was due to electrical failure.
The same plane had carried Argentina's national team from a match in Brazil to Colombia earlier in November. It had also transported Venezuela's national team in the past.
Chapecoense was on its way to play Atletico Nacional of Colombia in the first leg of the final of the Copa Sudamericana on Wednesday. The Chapeco team's recent success has drawn comparisons to that of English Premier League champions Leicester City – rank outsiders who won the top division after almost being relegated the previous season.
Chapecoense made it to Brazil's top division in 2014 for the first time since the 1970s and were closing in on silverware in one of South America's biggest competitions before tragedy struck.
You can share this story on social media: