71 dead after plane carrying Brazilian football team crashes in Colombia
A plane carrying Brazil's Chapecoense football team has crashed in Colombia en route to the biggest match in the team's history, killing 71 of the 77 people on board. Three days of national mourning have been declared.
Earlier, the number of people on board was reported as 81.
"This wasn't just a group of people who respected each other professionally. It was a family, a group of friends," club President Plínio David de Nes Filho, who was supposed to travel with the team before changing his plans, told an interviewer on Brazilian television.
"Everybody laughed so much, even in defeat... There was a great atmosphere, great joy. Yesterday morning, when I said goodbye to them, they said that they were going off to make our dreams come true. We shared this dream with all our emotion. And in the early hours of this morning, that dream came to an end," he said.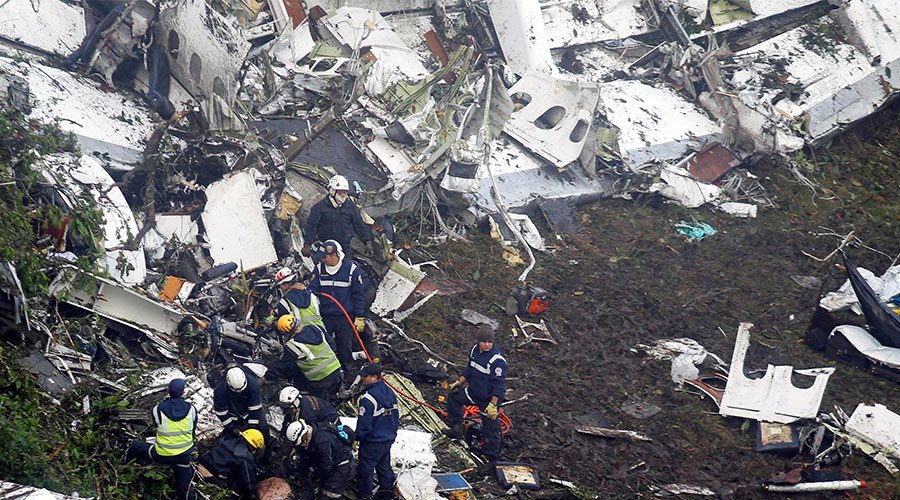 The team had been traveling from its hometown of Chapeco, in the southern state of Santa Catarina, to Medellin in Colombia. It was due to play the first leg of the Copa Sudamericana continental tournament against local side Atletico Nacional on Wednesday.
READ MORE: Brazilian football team took doomed flight after being denied charter request
After a layover in Bolivia, the chartered 1999-built British Aerospace 146 aircraft set off for Colombia, but reported electrical problems at about 10pm local time on Monday night as it was nearing its destination. Authorities are also investigating reports that the plane – operated by LaMia Airlines, a Venezuelan-Bolivian company – had run out of fuel before reaching the airport. There have also been local reports that the pilot may have dumped fuel on purpose seconds before the crash, preventing a massive explosion.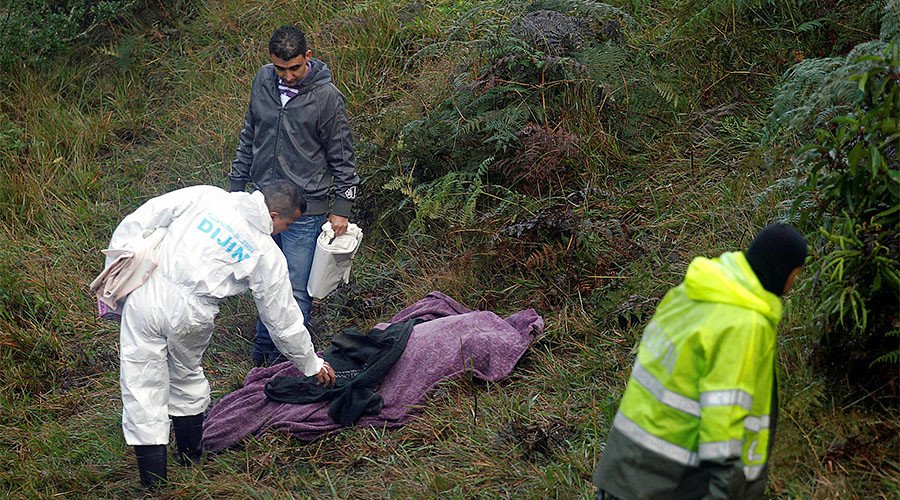 The plane crashed on a hillside outside Medellin. Photos from the site show that most of the tail and body of the plane were completely destroyed as the aircraft split in two. Two flight recorders have been retrieved from the wreckage.
A downpour and low visibility complicated the rescue operation, as helicopters were dispatched to the inaccessible location, but then had to be grounded. Survivors had to be carried by foot on stretchers, then loaded on to trucks that made their way through the slippery mud to the ambulances, as temperatures remained at 5 degrees Centigrade.
At least seven passengers were found alive at the crash site, though one has since died in hospital.
"The possibility that other people will be found alive has not been ruled out," said a statement from Colombia's disaster risk management agency.
Four footballers were among those pulled out of the wreckage, along with two crewmembers and a journalist, but Marcos Danilo Padilha, the team's starting goalkeeper, died from his injuries.
"The government will do everything possible to alleviate the pain," said a tweet from Brazilian President Michel Temer.
Chapeco, a city of only 200,000 that is most famous for its food processing industry, will be scarred by the sudden demise of its Cinderella team, which rose from the fourth to the top division in less than a decade, thanks to savvy management.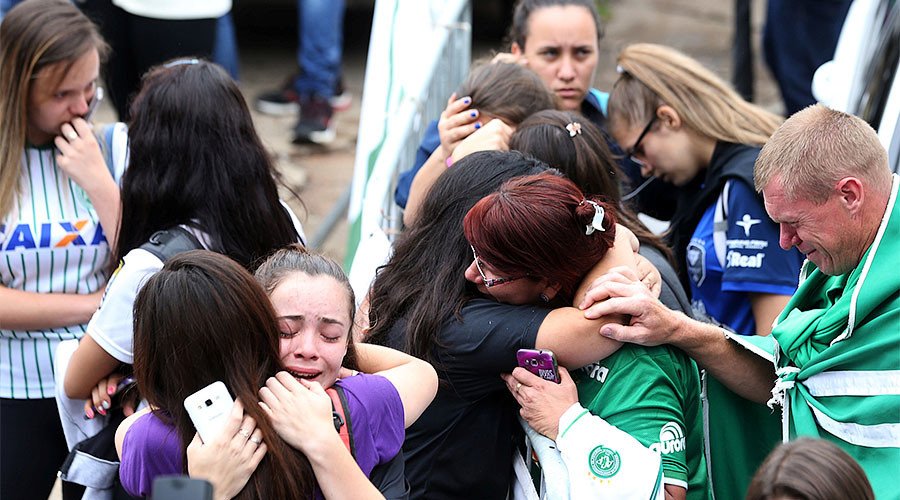 Hundreds of supporters gathered for an early-morning vigil outside the club's stadium, Arena Conda, singing together to commemorate the team.
Reaching the final of the continent's second most-prestigious club tournament was by far the biggest achievement in the club's history, and many players had tweeted photos of their journey to the game in anticipation.
"We're starting the journey to Colombia! We're starting the journey to Colombia!" Filipe Machado says to the camera, as his teammates cheer and mug for the camera, in one of the last videos of the team together. Machado was not on the survivors' list.
COMNEBOL, South America's ruling football body, has now suspended the Copa Sudamericana and other activities until further notice. Atletico Nacional has conceded the title to Chapecoense, whose players will now likely be honored as champions posthumously.
You can share this story on social media: