Conor McGregor granted professional boxing license in California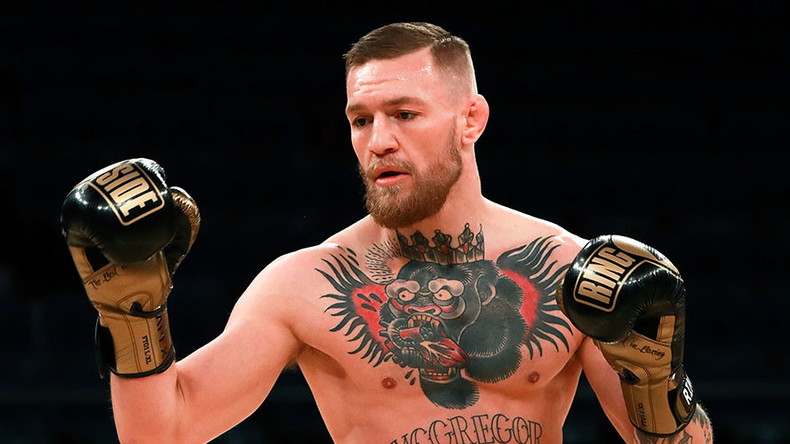 UFC superstar Conor McGregor has edged a step closer to a possible fight against Floyd Mayweather Jr. after being granted a license to box in California.
The Irishman has spent months calling out Mayweather, while continuing to dominate UFC headlines by becoming the organization's first simultaneous two-weight champion.
READ MORE: McGregor beats Alvarez to become first ever simultaneous two-weight UFC champion
"He got a license today and a federal ID – he's a California boxer now," California State Athletic Commission Executive Officer Andy Foster told MMAFighting.com.
"He's qualified (as a boxer). I'd love to see him fight in California. It just needs to be the right opponent.
"Certainly a high-level opponent. We're happy to license him. We're happy he's a California fighter."
The news comes in the wake of McGregor relinquishing his featherweight belt due to his break from UFC fighting as he awaits the birth of his first child.
That decision drew derision from Jose Aldo, who claimed McGregor dropped the belt because he was afraid of facing either him or Russian Khabib Nurmagomedov for the title.
READ MORE: Nurmagomedov destroys Johnson at UFC 205, demands fight with 'chicken' McGregor
McGregor has been teasing about the prospect of a fight against Mayweather for months, although the American said back in September that they "weren't able to make the fight happen" and he was happy to stay retired.
Leonard Ellerbe, head of Mayweather Promotions, told ESPN on Wednesday that McGregor's acquisition of a boxing license was merely a publicity stunt.
"It's all a game, all a calculated effort to gain more fans," he said.
"He got a boxing license – congratulations to him. Conor McGregor can say anything he wants to, but he has a boss and his name is (UFC president) Dana White.
"He is under contract to the UFC and if he wanted to fight Floyd Mayweather in a boxing match he can't because his bosses wouldn't allow that to happen.
"The brass (from WME-IMG) who recently purchased the UFC (for $4 billion earlier this year) are very smart people and they would never – and put this in bold caps – let him step into a boxing ring with Floyd Mayweather because everyone knows what the outcome would be.
"He would get his a** beat from pillar to post."