Aldo vows to hunt down 'p*ssy' McGregor at lightweight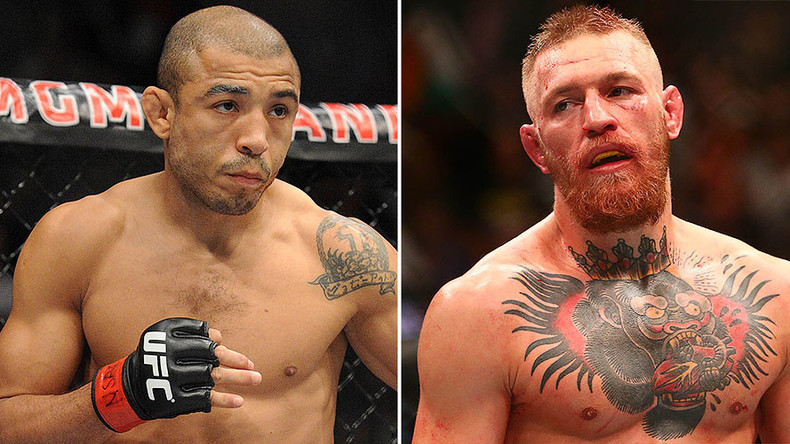 UFC fighter Jose Aldo said he will pursue Conor McGregor to the lightweight division after he defends the featherweight title, the belt Aldo claimed McGregor relinquished out of cowardice.
Aldo was subsequently made undisputed featherweight champion last weekend to allow the UFC to introduce another interim title for the UFC 206 main event between Max Holloway and Anthony Pettis.
"It's not my fault that he's such a p*ssy he was never the champion," Aldo told MMA Fighting, claiming the prospect of a fight with Aldo or Khabib Nurmagomedov was too tough for McGregor who chose to drop the belt instead.
READ MORE: Conor McGregor no longer 'double-champ,' relinquishes featherweight belt
McGregor defeated Aldo in 13 seconds in December 2015 but has not defended the title since. Instead, he moved up a weight class to claim the lightweight title from Eddie Alvarez, making him the first UFC fighter to hold two title belts simultaneously. This week he relinquished his featherweight title to allow for a title fight at UFC 206.
Aldo has pursued a rematch since his loss but has had his requests dismissed by McGregor, who claimed the prospect "bored" him.
Ahead of McGregor's fight with Alvarez in New York this month Aldo said he no longer trusted UFC President Dana White who allowed McGregor to maintain the belt for so long despite not defending it.
This stance seems to have changed as Aldo told UFC that he will now be able to choose his opponents, including McGregor. "First, I want to defend my title and then go after a fight with McGregor at lightweight," he said. "Just like Dana White said, we can choose who we want to fight, so I want to fight him. That's what will happen."
Aldo expects to defend his featherweight belt in either February or March after the interim belt bout at UFC 206 between Max Holloway and Anthony Pettis is decided in Toronto on December 10.