Conor McGregor no longer 'double-champ,' relinquishes featherweight belt
Published time: 27 Nov, 2016 09:37
Edited time: 27 Nov, 2016 20:31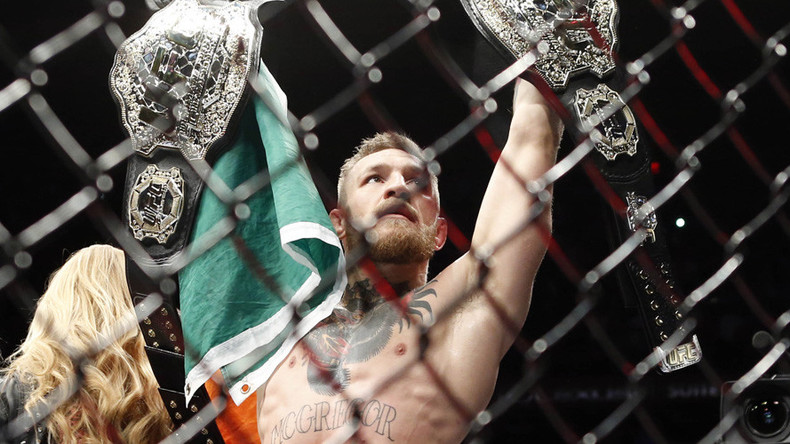 Irish UFC fighter Conor McGregor will relinquish his featherweight UFC belt to allow for a new title fight. The move comes after the UFC scrambled to fill the main bout at next month's UFC 206.
Max Holloway and Anthony Pettis will now battle for the interim belt in Toronto on December 10, with the winner likely to face Jose Aldo in 2017. Aldo currently holds an interim belt in the division after defeating Frankie Edgar in July.
The announcement was made during a UFC event in Melbourne, Australia after Daniel Cormier was forced out of his fight with Anthony Johnson due to injury, leaving the main card event for UFC 206 empty.
No way Conor McGregor gave up his featherweight title without UFC giving him something in return.

— Marcel (@BasicallyIDoWrk) November 27, 2016
UFC says McGregor has "relinquished" the 145 title. I'm told he never agreed to that, as we reported earlier, but UFC w/i rights to strip.

— Ariel Helwani (@arielhelwani) November 27, 2016
McGregor has not fought at featherweight since December 2015, when he knocked out previous champion Jose Aldo in 13 seconds.
READ MORE: UFC 194: McGregor stuns Aldo in 13 seconds to claim UFC crown
McGregor then shifted up two weight classes to welterweight, where he recorded one win and one loss against Nate Diaz, before defeating Eddie Alvarez for the lightweight belt earlier this month.
READ MORE: McGregor beats Alvarez to become first ever simultaneous two-weight UFC champion
Following the fight, the 28-year-old Dubliner announced he would be taking some time away from fighting as he expects his first child, claiming it would be May 2017 at the earliest before he returns.
Every UFC featherweight "champion" will operate in the shadow of Conor McGregor. Like a little Jon Jones. #ufc206

— Jonathan Snowden (@JESnowden) November 26, 2016
McGregor has yet to make a statement on no longer being the "double-champ."