UFC 194: McGregor stuns Aldo in 13 seconds to claim UFC crown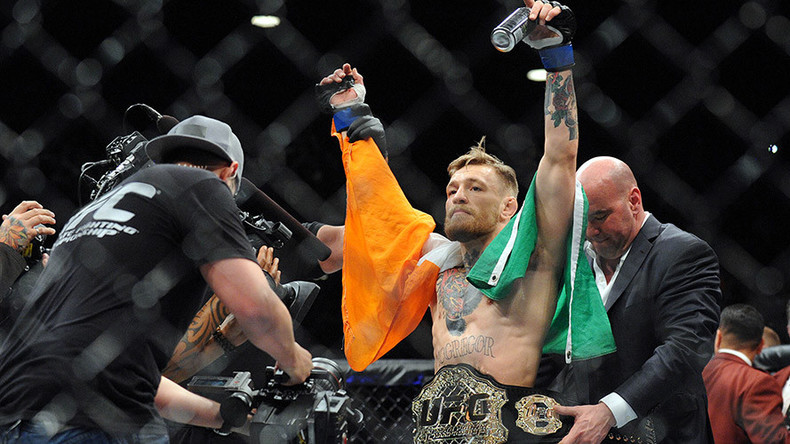 Conor McGregor told everyone how it would end. "If he lets that right hand go, I will not be there," the Irishman warned ahead of his UFC Featherweight title fight with Jose Aldo in Las Vegas.
Just 13 seconds into the fight Aldo had thrown his right, McGregor slipped it and responded with a booming left hand - the shot he calls the most feared in combat sports - to leave the long-reigning champion out cold.
McGregor looked to finish the job, but referee John McCarthy dived in to spare Aldo from further punishment and that was that.
It was the fastest finish in a UFC title fight, but came as no surprise to McGregor.
"No power, just precision," he said. "No speed, just timing. That's all it takes, especially when you have my left hand. Nothing can take that left hand.
"What I say happens, happens. I felt like last fight week was gone before I could embrace it, but this time I took it in. The Irish are making the fight game what it is today.
"I think Aldo should reassess himself while I look to maybe go for the 155-pound belt or maybe I look at Frankie (Edgar), so there are options.
"I showed up tonight and put a stamp on the real belt, there is no doubt now."
UFC president Dana White had suggested he would have to give up his featherweight title if he moved up, but McGregor said no.
"I'll tell you one thing that won't be happening. If I move to the lightweight division, there's no way in hell I'm vacating that belt - that's not happening. I will have one belt on one shoulder and one on the other."
Unbeaten in over a decade and the only featherweight champion the UFC has had, Aldo was expected to be a stiff test for McGregor.
The Brazilian had previously seen off the likes of Edgar and Chad Mendes, but a long spell out with injury meant McGregor was the favorite in the run-up to the fight.
After delivering the stunning knockout, the 27-year-old Irishman said he will "bring Floyd Mayweather numbers" to the UFC as he moves forward.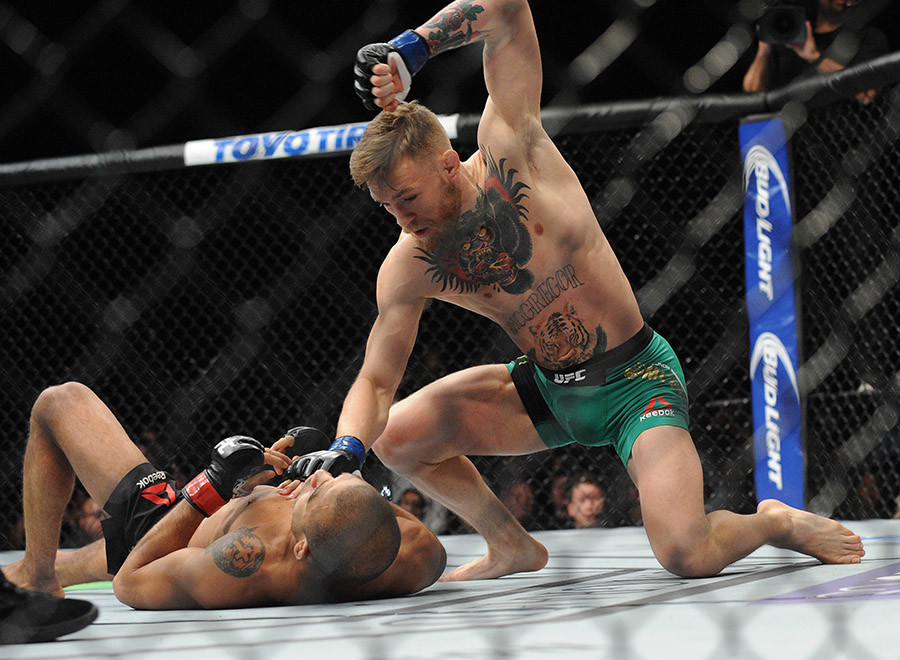 The fight drew a $10.1-million record gate for a UFC event at the MGM Grand Garden Arena, while spokesman Dave Sholler confirmed pay-per-view numbers were on course to beat the 1.6 million orders set by Brock Lesnar and Frank Mir at UFC 100.
Elsewhere on the card, Luke Rockhold claimed the UFC Middleweight title with a dominant display against previously undefeated champion Chris Weidman.
After two evenly matched rounds, Rockman took control in the third to bust Weidman open. He wrapped things up in the next round, landing a flurry of punches after taking his opponent to the mat.
The welterweight bout between submission experts Demian Maia and Gunnar Nelson was billed as a tight contest, but Maia controlled the fight from the outset to secure a unanimous points decision (30-26, 30-25x2).
UFC 194 Complete Results
Featherweight: Conor McGregor def. Jose Aldo via KO (punch) at 0:13 of Round 1.
Middleweight: Luke Rockhold def. Chris Weidman via TKO (ground and pound) at 3:12 of Round 4.
Welterweight: Demian Maia def. Gunnar Nelson via unanimous decision (30-26, 30-25x2).
Featherweight: Max Holloway def. Jeremy Stephens via unanimous decision (30-27x2, 29-28).
Bantamweight: Urijah Faber def. Frankie Saenz via unanimous decision (30-27, 29-28x2).
Women's strawweight: Tecia Torres def. Jocelyn Jones-Lybarger via unanimous decision (30-27x3).
Welterweight: Warlley Alves def. Colby Covington via submission (guillotine choke) at 1:26 of Round 1.
Lightweight: Leonardo Santos def. Kevin Lee via TKO (punches) at 3:26 of Round 1.
Lightweight: Magomed Mustafaev def. Joe Proctor TKO (knee and punches) at 1:54 of Round 1.
Lightweight: Yancy Medeiros def. John Makdessi via split decision (29-28x2, 28-29).
Welterweight: Court McGee def. Marcio Alexandre Jr. via unanimous decision (30-27, 29-28x2).
You can share this story on social media: