Russia's Karjakin forces world chess champ Magnus Carlsen into rapid title playoff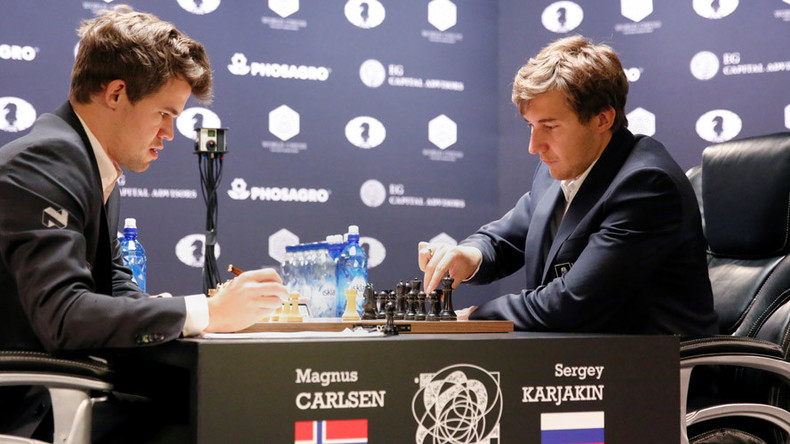 The Norwegian Magnus Carlsen and Russia's Sergey Karjakin have ended their 12th World Chess Championship game with a tense 10th draw. A rapid and blitz chess format tiebreaker will decide if Carlsen retains his title on Wednesday.
The two appeared in no mood to take risks during Monday's game, agreeing to a draw after 35 minutes and the 30th move, the earliest point allowed.
Read more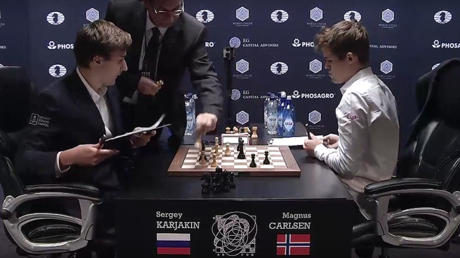 "Too much at risk and neither wants to take a chance. Carlsen believes he is better in rapid & blitz. Karjakin has black in game 12 so he is not crazy enough to push. So everyone is happy except the fans," commented a US chess grandmaster Susan Polgar on her Twitter account, as the match was wrapping up.

"If the 12th game of the World Chess Championship were a restaurant dish, I would send it back to the chef," commented Nigel Short, a British grandmaster and onetime world title challenger.
On Wednesday, Karjakin and Carlsen will play four games of rapid chess, with 25 minutes allocated to each player, plus additional 10 seconds for each move. If they fail to break the deadlock, they will play two blitz matches, with 5 minutes on the clock, and three seconds per move. If there is still no winner, another two games will be played, and then another two, up to a total of 10.
Then if it is still a draw, 25-year-old Norwegian and the 26-year-old Russian will play Armageddon, a format that gives White five minutes, and Black only four, but produces a guaranteed winner, as a draw is counted as a win for the Black player.
As well as holding the world title for classical chess, Carlsen is the 2015 World Rapid Chess Champion, and is ranked number 2 in the blitz. Karjakin was the 2012 World Champion in the rapid, and is ranked 11 in the blitz.

Carlsen has held the World Chess Championship since 2013, when he beat Viswanathan Anand, whom he also defeated in a rematch a year later.