Karjakin-Carlsen game 11 ends in draw in tight World Chess Championship battle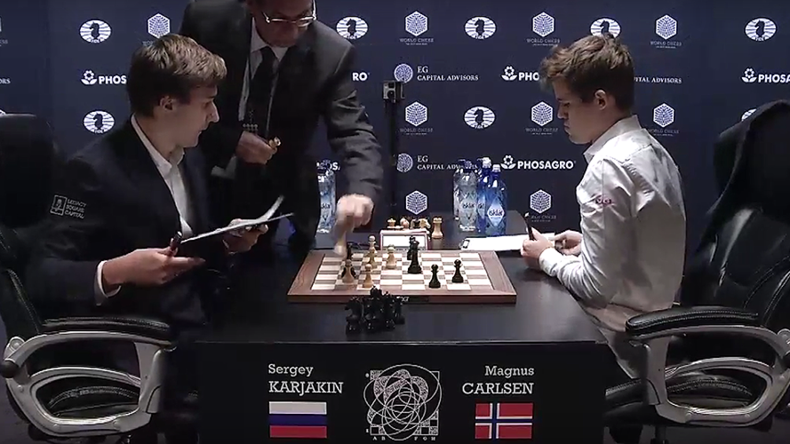 The 11th game of the 12-game series at the World Chess Championship between Russian grandmaster Sergey Karjakin and Norway's Magnus Carlsen has ended in a draw.
The score after the game between the two world chess heavyweights stands at 5.5:5.5 after the latest match in New York.
In an intense battle, Karjakin played white against the defending Norwegian World Champion.
Carlsen undertook a brilliant 19 moves, which gave him the initiative, but that was not enough to win the game, which after 34 moves, ended in a draw.

"I was not very impressed [with] the way I played but at least the draw was normal," Karjakin said after the game. "I will fight and see what happens [on Monday]."
Read more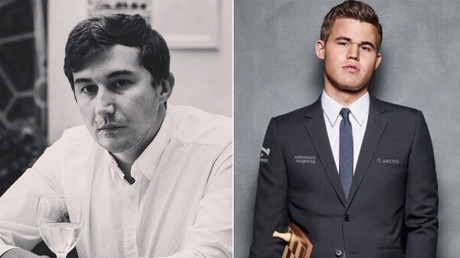 "I did not really believe that I was better," Carlsen said after the match. Commenting on proceeding into the 12th game of the series, the Norwegian said, "it is not a dream situation, but could have been much worse."
The 12th game will be held on Monday, and Karjakin will play black. If there is no victor after the game, tiebreakers will be held to determine who will take home the title and the $636,000 winner's purse.
The duo are two of the sport's youngest-ever grandmasters – Karjakin achieving the title aged just 12 years and seven months, making him the youngest in history, while Carlsen is third on the list, becoming a grandmaster at 13.
Twenty-five-year-old Carlsen, current World Chess Champion, claimed the title in 2013 when he beat Indian rival Viswanathan Anand in a series that led to more internet searches in Norway about the game than for football.
Karjakin, 26, became the challenger to Magnus Carlsen after winning the Candidates Tournament 2016 in Moscow. The Russian also won the 2012 World Rapid Chess Championship and the Chess World Cup 2015. He also won the Norway Chess Tournament twice (2013, 2014) and the Corus Chess Tournament in 2009.