Stranded Jamaican bobsled team saved by Canadian good Samaritan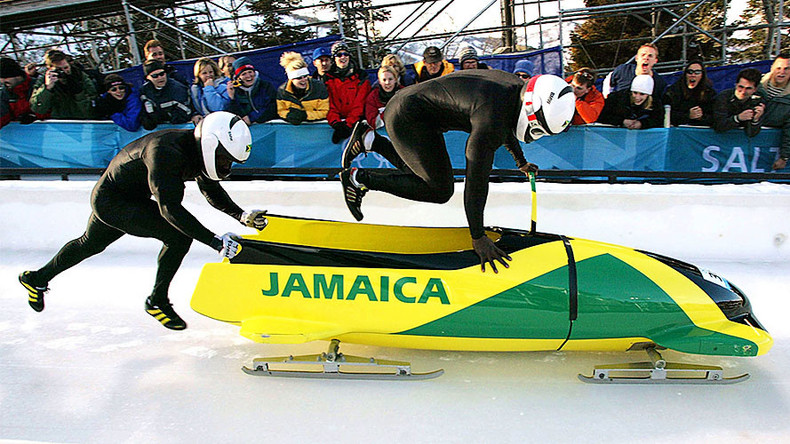 The members of Jamaica's national bobsleigh team got a lucky break when their van broke down in sub-zero temperatures in Calgary, Canada.
The 12-man team was in Calgary for a competition held on Sunday and was traveling across country in the budget van.
To try and raise money, the team tweeted about their situation and a GoFundMe page was soon set up to help them reach their target for the needed repairs.
Local resident David Schnerch passed by the van in his truck and saw team members failing to fix the battery. Schnerch handily was in possession of a pair of jump leads and used them on the Jamaicans' vehicle, but when that didn't work, he drove them himself to the Canada Olympic Park.
READ MORE: Tyson Gay abandons Team USA bobsled plans

"Just focus on the race," he said. "We'll get you what you need."
When Schnerch found out the team needed to make the 11-hour journey to Whistler, British Columbia, from Calgary for another competition, he gave them the key to the truck.
"If they still need it, once they're done they'll get it back to me," he told the BBC.
Social media director for the team Kathleen Pulito told the Calgary Herald that the team has little funds and the van was supposed to take them across Canada as they prepared for the 2018 Winter Olympics in Korea.
"We're just trying to do what we can, get one place to the next and hoping we don't run out of money," she said.
The scenes are uncannily reminiscent of the plot of 1993 cult comedy classic movie "Cool Runnings," in which a team of failed Jamaican sprinters form an unlikely bobsleigh team to compete in the 1988 Winter Olympic Games – also in Calgary.
In the film, the threadbare team have to raise funds in absence of a sponsor through such means as a kissing booth and hosting arm wrestling competitions. Their target fun is reached when one of the team sells their own vehicle.