UFC 205: McGregor 'focusing on history,' Alvarez predicting 2-round victory
Published time: 28 Oct, 2016 12:16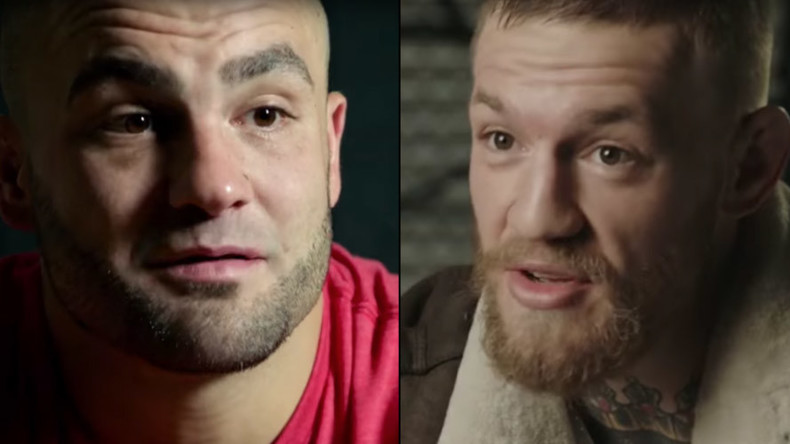 With UFC 205 at Madison Square Garden just over two weeks away, an extended preview of the event's three championship fights has been released.
Current featherweight champion Conor McGregor faces Eddie Alvarez for the UFC lightweight title in the headline fight as he bids to become the promotion company's first-ever simultaneous two-weight belt holder.
The chief supporting bouts on the card see Tyron Woodley in the maiden defense of his welterweight championship against Stephen Thompson, while Joanna Jedrzejczyk will make the fourth defense of her strawweight title against Karolina Kowalkiewicz in an all-Polish affair.
"I'm gonna go in I'm gonna get those belts, take out two divisions," McGregor says in the promo. "If anyone can do it – it's me. Nobody else can do it.
"Winners focus on winning, losers focus on winners. They're focusing on me. I'm focusing on history."
READ MORE: Real Madrid hoping to host blockbuster Conor McGregor fight

Despite the Irishman's confidence and habit of precisely forecasting how and when he will win – a piece of gamesmanship that has earned him the moniker 'Mystic Mac' – Alvarez has made his own predictions for when the pair meet in New York on November 12.
"I think we do it under the nine-minute mark," Alvarez, 32, told FOX Sports. "Big, big heavy shots, he goes down and then submission.
"I can see it ending much like his first [Nate] Diaz fight where I land the heavy shot and then I finish with a submission.
Since leaving Bellator two years ago the American has quickly made his mark in the UFC. And while McGregor is looking to create history with a win, Alvarez has already etched his name into the history books.
After winning two of his first three fights with the company, Alvarez claimed the lightweight title with an impressive first-round win over Rafael dos Anjos in July. The win made the Philadelphia-born fighter the first and only man to win championships in both Bellator and the UFC.
Alvarez says of his opponent in the promo video: "he has never put himself in harm's way and I think just now he has."
McGregor, 28, heads into the contest on the back of a hard-fought victory in a rematch against Nate Diaz at UFC 202, but Alvarez believes he has spotted weaknesses in his opponent and intends to take full advantage.
"From what I've seen in the past and what he's done in the past, his heart is very questionable and I'm not the only one who's questioned it.
READ MORE: MMA to apply to become Olympic sport
"I think he has quit in him and I think it takes a tad of adversity and him to get into a little bit of a fight to pull it out of him.
"On November 12, I'm going to pull it out of him and I'm going to show it to millions of people and the crowd. Everybody's going to see it. We're going to reveal the quit."
The three title fights will be the showpieces of the first MMA event in New York since the end of the sport's 20-year prohibition in the state in April.