'It was my longest break, but I'm ready to fight': Alexander Shlemenko on his Bellator return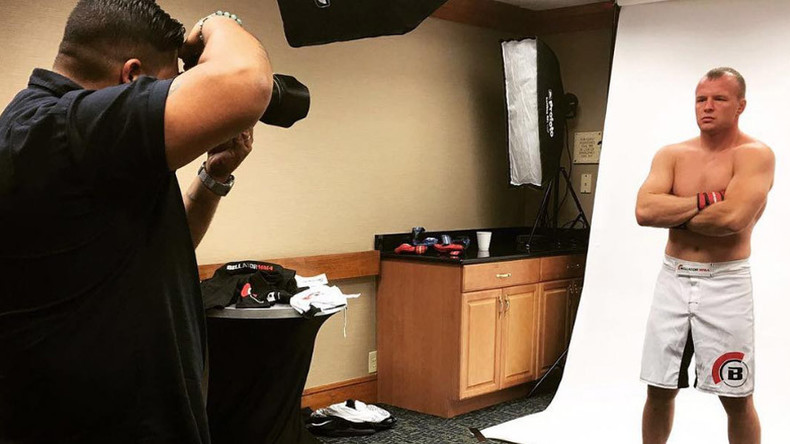 After an almost two-year break, Russian MMA veteran Alexander "The Storm" Shlemenko is coming back to the cage this Friday, October 21, to face Kendall Grove at the main event of Bellator 162 in Memphis. Ahead of the bout, RT Sport caught up with Shlemenko.
Last fight
It's been more than a year and a half since Shlemenko, 32, fought in the Bellator cage. He was victorious against Dutchman Melvin Manhoef in February 2015, winning via TKO just over a minute into the second round with his signature 'back fist' move.
But the fight was later declared a "no contest" as Shlemenko's post-fight urine test allegedly revealed elevated levels of testosterone. Shlemenko was suspended by the California State Athletic Commission for three years as a result – although "The Storm" has denied any wrongdoing since day one.
He has also stated numerous times that a B sample was never taken, despite his requests, which is standard procedure to prove the original positive test.
Shlemenko, who has a professional MMA record of 53 wins and 9 losses, took his case to court in an attempt to prove his innocence, and later saw his suspension reduced to just one year, although the Athletic Commission never admitted a mistake from its side.
"I still don't understand that situation. I still don't understand what happened," Shlemenko told RT Sport.
"Was it someone else's test? Or was it just a mistake in the process? I don't know.
READ MORE: Russian MMA star Shlemenko cleared to fight again after court lifts ban
"What I know is the fact that I never took any banned drugs.
"But the injustice I have faced even brought thoughts of retirement, to be honest.
"It was my longest break ever. But it's all over now, and I'm ready to fight again."
How has "The Storm" used his break from Bellator?
Talking about what he has been up to since his last Bellator fight, Shlemenko mentioned his two fights in Russia's M-1 promotion and the opening of his own MMA gym in his home city of Omsk.
"I had two fights in Russia. Both against [ex-Bellator fighter] Vyacheslav Vasilevsky. I won both. So I was training and fighting, as I always do," he said.
"And I'm glad that Bellator and the Athletic Commission allowed me to take part in these fights, despite the ongoing process.
"Also, we opened an MMA gym called 'The Storm' in my home city of Omsk. It's a gym where we train kids mostly. But professional fighters come from all around Russia to train with us as well."
"So I've been really busy lately."
Kendall Grove
This Friday, Shlemenko faces American Kendall Grove, 33, who stands 6ft 6in, 185lbs, and has a professional MMA record of 23 wins and 15 losses.
Grove made short work of his last opponent, Francisco France, at Bellator 150, knocking him out just 35 seconds into the second round.
"I know him pretty well. I watched his fights. I watched his fights against some of the fighters who are my friends. I know what he is capable of. I know that he is a difficult opponent," Shlemenko said of Grove.
"Plus it seems like he is on the up now. He won his two last fights with KOs. So he's definitely a dangerous fighter."
Thoughts on Bellator
Bellator has been on the hunt for new names to fight in the promotion lately, adding promising young fighters such as England's Michael "Venom" Page and Russia's Anastasia Yankova, who have received a lot of media attention.
It also recently made the headlines of all the main MMA outlets with the addition of one of the UFC's best-known names, "The American Gangster" Chael Sonnen, to its roster.
Shlemenko also notes this positive trend.
"It seems like Bellator is now investing much more in its development.
"It's great. They sign new fighters. So the rivalry level will grow, and that means it's going to be an even more entertaining promotion to watch."