Bellator's Michael Page celebrates knockout by throwing Pokeball at opponent (VIDEO)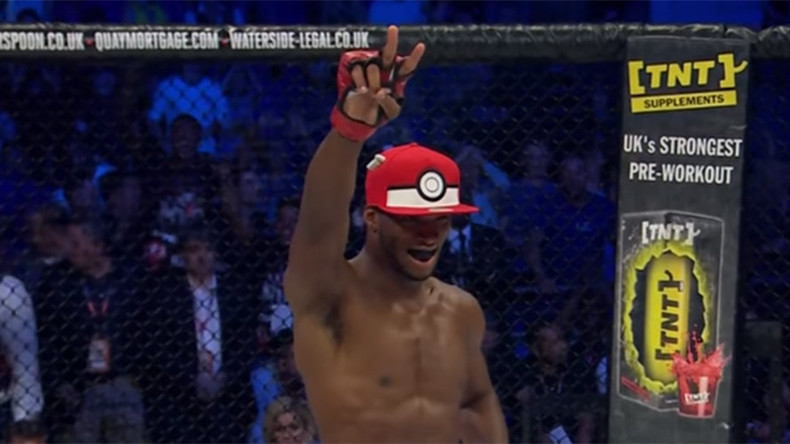 British mixed martial arts fighter Michael "Venom" Page knocked out Evangelista "Cyborg" Santos in his Bellator 158 bout in London on Saturday night and celebrated his victory in the UK in rather a unique way.
The 29-year-old fighter connected with a flying knee to Santos' head in the second round to claim victory, taking his MMA record to an impressive 11-0.
As can be seen below, Page ran straight to his corner after the bout and donned a hat in the style of Pokemon's main character, before grabbing a Pokeball and throwing it at his opponent, who was strewn on the mat.
"Venom," who is well known for his eccentric antics after and during bouts, has now certainly opened the window to a whole new level of sponsored post fight celebrations for MMA.
The Pokemon Go application has already broken download records and become notorious for the number of accidents people and those around them get into while playing it in the US. It was launched in the UK just a few days before the fight.
READ MORE: A dead body, armed robbers, & traffic chaos: The dark side to Pokémon Go
The app's first week in Great Britain has already seen one teenager hit by a motorbike when he was crossing the road while reportedly playing the game. Four others players had to be rescued from a cave after they got lost looking for Pokemons, as dailymail.co.uk reports.
The Pokemon Go craze has recently hit the world, with smartphone users downloading the massively hyped app in a bid to "catch" Pokemons on the street.