A dead body, armed robbers, & traffic chaos: The dark side to Pokémon Go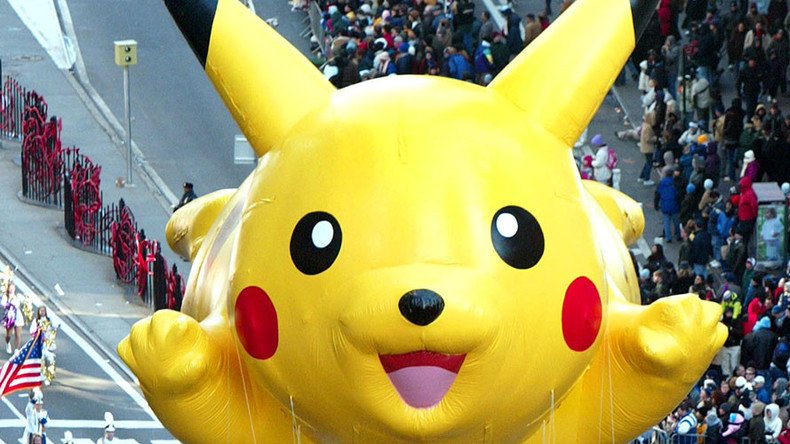 Nintendo's Pokémon Go app has been out less than a week but already the game's meteoric rise has seen it commandeered by armed robbers, turn up a dead body and linked to countless traffic violations.
Official and unofficial versions of the augmented reality mobile phone game have been downloaded millions of times around the world but its popularity has come at a price. People are going Pokémon crazy, with some even using the game to carry out crimes.
On Friday, a 19-year-old wandering Pokémon hunter in Wyoming discovered a dead body floating in the Big Wind River while on a quest.
On Saturday one man in Massachusetts woke up to a garden full of wandering Pokémon players after his home, which was once a church, had been marked as a 'gym.'
By Sunday four teens allegedly used the app to lure people to their areas of choice and committed multiple armed robberies in Missouri - Pokémon Go users have since been encouraged to use a buddy system.
The geo-cached iPhone and Android app uses your location to track where you are and leads you on a reality game treasure hunt in which you have to physically move to find and capture Pokémon monsters.
READ MORE: Teen finds dead body while looking for Pokemon with phone game
The app gives you hot and cold hints to send you to numerous nearby Pokéstops where monsters can be found. The characters you capture can then be used in various Pokémon 'Gyms' which serve as a battleground for you and your monsters to fight other players.
The app, which is addictive to say the least, is as of yet only available in Australia, New Zealand and the US – seriously, not even in Japan, the birthplace of all that is Pokémon.
Niantic Labs have paused the global rollout because of the overwhelming and unexpected demand on their servers, but a Europe and Asia launch in reportedly expected "within a few days."
READ MORE: Super Mario gets involved in Syrian refugees' plight
In case you're still underestimating the power of this thing, numbers-wise it has smashed every previous app success story.
It has almost surpassed Twitter in daily active users, has overtaken Tinder, racked up more usage time than WhatsApp, SnapChat and Instagram, and Nintendo's value has been increased by almost $8 billion – oh, and it hasn't been available for a week yet.
What Pokémon Go has managed to do that no app or game has ever achieved on such a scale, is the ability to bring hardcore gaming fans to the outside world. The app has already received praise for getting people outside the house and exercising.
Many have taken to social media to credit the game for helping with anxiety and depression, and for fostering friendships among otherwise socially awkward gamers who have previously been more comfortable with 'cyber friendships.'
In recent days Craigslist pages have been filling up with missed connections notices from players hoping to get back in touch with people they met while out hunting the Japanese cartoon characters.
One player from Chicago posted about their interest in a fellow fan they met on a train.
"You were playing Pokemon Go and talked to me a bit about it," the message read.
"You had a cig in the back of your ear and a sweatshirt on. Your friend told you to hurry up and so you had to leave. We talked about levels and such. Tell me what level you are! You looked like a fun guy! We should go catch Pokemon together."
Another gamer seeking an engrossed "Pokemon Gym Leader" wrote: "You seem[ed] very absorbed in the game, so you probably didn't notice me. If you ever want to catch Pokemon together, hit me up."
A missed connection based in New York also told of a potential Pokémon spark of love on public transport.
"We started talking at junction on the 7 train headed to Flushing about my Pokemon game on 7/7. You got off at Citifield and I never caught your name. I thought we had chemistry."
Our streets are now crowded with wandering Pokémon fans staring intently at their outstretched phones, only time will tell whether Nintendo will manage to keep these ones or lose them in the flash-in-the-pan pile currently heavy with old Wii consoles.
You can share this story on social media: