'I'm retired': Tyson Fury announces he's quitting boxing on Twitter
Published time: 3 Oct, 2016 14:27
Edited time: 3 Oct, 2016 15:25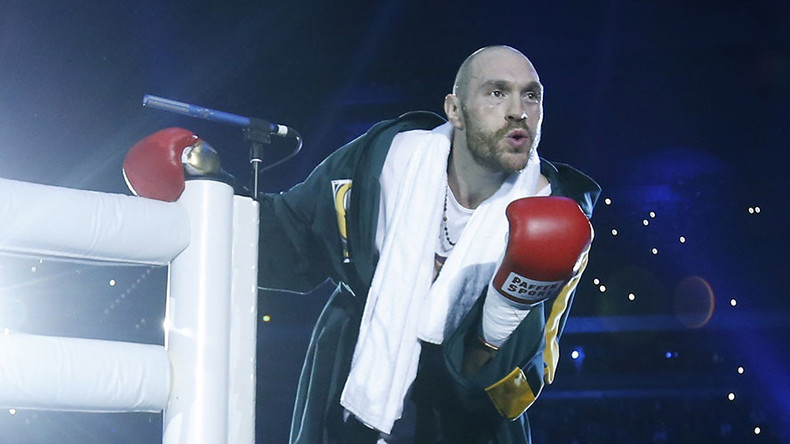 Following an unfortunate series of events for "The Gypsy King" that included claims of health issues, drug allegations, and the possible stripping of his championship belt, Fury took to Twitter to announce his retirement from boxing.
"Boxing is the saddest thing I ever took part in, all a pile of s***, I'm the greatest, & I'm also retired, so go suck a d***, happy days," wrote Fury in the tweet.
Boxing is the saddest thing I ever took part in, all a pile of shit, I'm the greatest, & I'm also retired, so go suck a dick, happy days.😀😀😀

— TYSONMONTANA (@Tyson_Fury) October 3, 2016
It all began when the 28-year-old Englishman, who currently holds the WBA and WBO world titles after beating Wladimir Klitschko on points back in November 2015, had seemingly started avoiding a rematch against the Ukrainian.
In June, Fury and his team announced that the world heavyweight championship bout had to be postponed due to an ankle injury.
READ MORE: Tyson Fury postpones rematch against Wladimir Klitschko (PHOTOS, VIDEO)
Fury withdrew from his rematch with Klitschko, scheduled for October 29, again last week, after being declared 'medically unfit' the day after the test.
It was announced later that the world heavyweight champion tested positive for cocaine in a random urine test on September 22.
READ MORE: Tyson Fury tests positive for cocaine, could be stripped of belts
Although a competitive ban was unlikely due to cocaine not being prohibited when taken out of competition under World Anti-Doping Agency rules, WBA President Gilberto Mendoza said that Fury could be stripped of his heavyweight championship belt after the British fighter pulled out of a rematch with Klitschko for the second time.
Fury sparked further controversy over the weekend after mocking his positive test by superimposing his head onto the body of Al Pacino's Tony Montana (from the Scarface movie) in a Twitter post.
Fury has not shied from controversy for most of his career, with the Morecambe-born fighter making a number of controversial statements and behaving provocatively at and away from sports venues.
It is unclear at the moment whether Fury was serious in the statement or if it is yet another media stunt.
Fury caused a stir on social media after a tweet appeared on his account saying he was gay in July.
His increasingly erratic behavior prompted Klitschko's team to start negotiations with Anthony Joshua to challenge for his IBF title in Manchester at the end of November.
Fury has won all 25 of his professional contests, with 18 stoppages.