'Never give up, do your best': Russian wheelchair racers break a sweat on F1 track in Sochi (VIDEO)
Published time: 1 Oct, 2016 19:20
Edited time: 2 Oct, 2016 17:13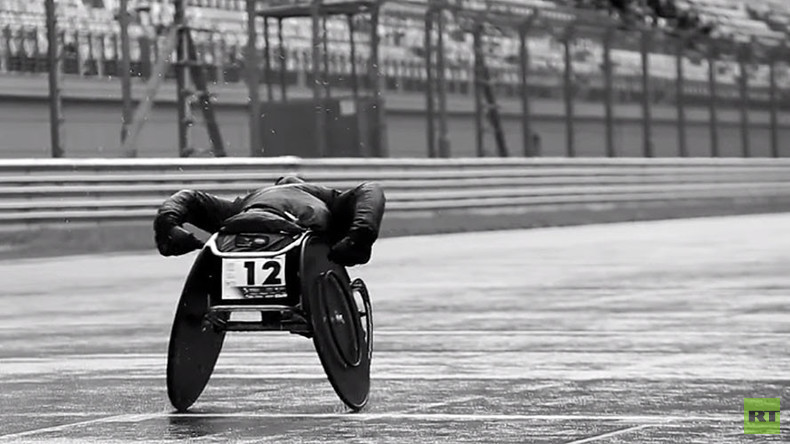 A new video clip showing Russian wheelchair racers battling in the rain on a Formula 1 track in Sochi will surely send chills down your spine – the determination and spirit of a true athlete can't be dampened.
The spectacular black and white video gives an insight into the training that wheelchair racers have to go through almost every day, overcoming pain and exhaustion.
The shots showing Sochi's Formula 1 track and racers competing both with one another and the foul weather are cut with alternate close-ups of Russian racers telling their stories and explaining that sport is the thing driving them in life.
"It's hard, but the feeling that you're fighting keeps you going," says one of the racers.
"I cannot live any other way and I don't want to," says another athlete.
"It's probably this desire to achieve something. I don't even know myself where it'll take me," a further sportsman can be heard saying in the video.
All of them spent long hours mastering their skills, eager to take a shot and show their best performance at the most important competition in the world. Most of the athletes didn't lose hope until the very last moment, and truly believed that justice would be served and they would go to Rio. However, their dreams were not destined to come true.
In September, the whole Russian team was stripped of the right to go to the 2016 Paralympic Games, despite almost two hundred appeals being filed by the athletes and protests taking place both inside and outside Russia. The decision to ban all of the Russian athletes was taken unanimously by the International Paralympic Committee in August.
The ban was implemented after allegations of a state-sponsored doping system in Russia were published in a November 2015 World Anti-Doping Agency (WADA) report. There were no official accusations of doping brought against the Paralympics team, which was supposed to take part in the 2016 competition.
At the 2012 London Paralympics, the Russian team secured 36 gold medals, and a total number of 102 medals. The result put Russia in second place in the overall medals table.