Nurmagomedov added to stellar UFC 205 card
Published time: 28 Sep, 2016 10:08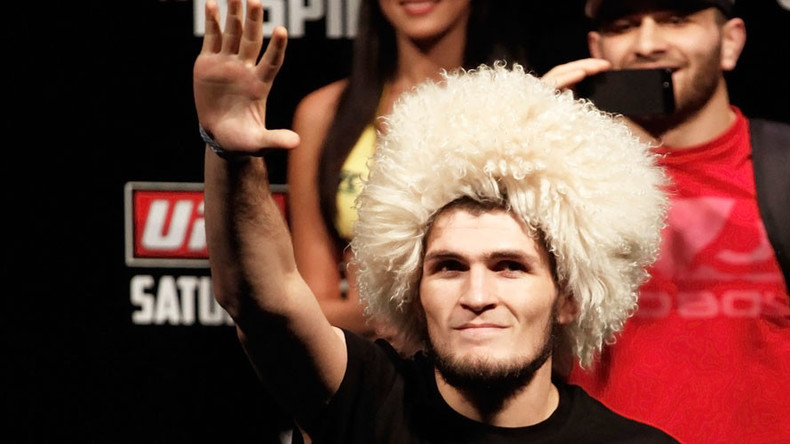 Khabib Nurmagomedov may have been frustrated in his attempts to face Eddie Alvarez at UFC 205, but the Russian fighter will still be part of what promises to be a spectacular event.
UFC President Dana White has confirmed the unbeaten Russian will face Michael Johnson on a stacked card at New York's Madison Square Garden on November 12.
Having targeted a meeting with Alvarez at either UFC 205 or 206 after signing contracts for both, Nurmagomedov will now hope a victory over Johnson will secure him a title shot against either the American fighter or Conor McGregor after the pair clash for the lightweight belt on the same night.
READ MORE: McGregor to face Alvarez at UFC 205 in bid for 2nd title
Nurmagomedov isn't the only fighter to have been left frustrated by the announcement of the Alvarez versus McGregor contest, with Jose Aldo demanding to be released from his contract with the promotion after missing out on a rematch with the Irishman.
McGregor demolished Aldo after just 13 seconds at UFC 194, but the Brazilian had set his heart on a rematch in New York.
White initially said McGregor wouldn't be allowed to retain his featherweight title if he took on Alvarez, but he has now been given the opportunity to become the first holder of two belts at the same time.
"Conor himself said before that he wouldn't give his belt away by any chance and nobody would take it away from him," Aldo said.
"After all this, I see I can't trust any word from president Dana White, and who's in charge of the promotion now is Conor McGregor.
"Since I'm not here to be an employee of McGregor, today I ask to cancel my contract with the UFC.
"When they offered me a fight with Frankie Edgar, Dana said that the winner would challenge McGregor or win the linear title, that he would lose his belt if he didn't return to the featherweight division after his rematch with Nate Diaz.
"After being fooled so many times, I don't feel motivated to fight in the UFC anymore."
READ MORE: McGregor beats Nate Diaz on points at UFC 202
Diaz is another fighter unhappy about McGregor challenging Alvarez for the lightweight title and has claimed the duo are "afraid" of him.
"F*** them both - you know both those little b****** are afraid to fight me, that's why they are fighting each other," Diaz told MMA Fighting.
"And tell Dana I said get off Conor's nuts. I left my room to that fight at 176 [pounds], so when I fought I was probably 173.
"Quit telling people I was a monster to make him look good. I've been a lightweight my whole career.
"Eddie said I was next after Gilbert, then I called him a b**** in the lobby and he turned the fight down repeatedly until I beat Conor.
"Then he called every day asking for the fight. B****. What kinda fighters are these guys?"
READ MORE: 'He cried after I beat him': Meet the first man ever to defeat Conor McGregor
In addition to the Alvarez versus McGregor bout, UFC 205 will also feature welterweight champion Tyron Woodley defending his title against Stephen Thompson.
The third title fight on the card sees Joanna Jedrzejczyk defend her strawweight belt against Polish compatriot Karolina Kowalkiewicz.