McGregor to face Alvarez at UFC 205 in bid for 2nd title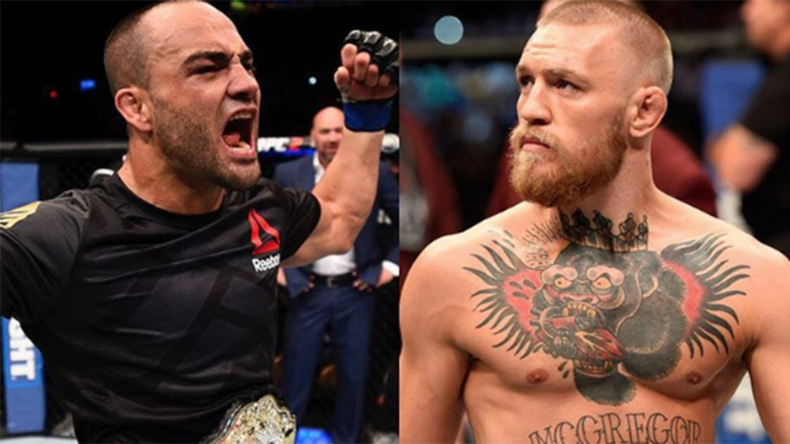 Conor McGregor has been handed the chance to write his name into the record books after it was confirmed he will face lightweight champion Eddie Alvarez at UFC 205 at New York City's Madison Square Garden on November 12.
Reigning featherweight champion McGregor is aiming to become the first fighter in UFC history to simultaneously hold two titles in two weight classes.
UFC President Dana White had previously said McGregor would have to defend or vacate his current title before taking another fight above the weight class, but confirmed on Monday night that the Irishman will have the opportunity to become a dual-title holder.
"This is the fight the fans wanted, and I'm excited that our very first event at Madison Square Garden will be headlined by Eddie Alvarez defending the lightweight title against Conor McGregor," White told ESPN.
"This card has three world title fights and is the best card in UFC history."
The announcement is a blow to unbeaten Russian star Khabib Nurmagomedov, who was expecting to fight Alvarez at either UFC 205 or 206 and had signed contracts for both.
READ MORE: Unbeaten Nurmagomedov set for title shot at UFC 205
He blasted Alvarez on Twitter, calling him a "b******* champ" and claimed the American fighter and McGregor used him to get the match-up they actually wanted all along.
Nurmagomedov also said the duo remained firmly on his radar.
"When I signed agreement with UFC it was sport. Now it became a freak show, or I don't know how to call it right," Nurmagomedov wrote on his Instagram.
"Only thing that keeping me in this cracking sport, is that I don't want to stop on the halfway, I wasn't raised like this, not a quitter. I'll keep moving forward InshaAllah."
The November 12 event will be the first time professional mixed martial arts has been staged in New York since 1997, following the lifting of a ban earlier this year.
UFC 205 will also feature welterweight champion Tyron Woodley defending his title against Stephen Thompson, while Joanna Jedrzejczyk will defend her strawweight title against Polish compatriot Karolina Kowalkiewicz.