'Obviously I'm going to win' - Canelo warns Smith ahead of Texas title tilt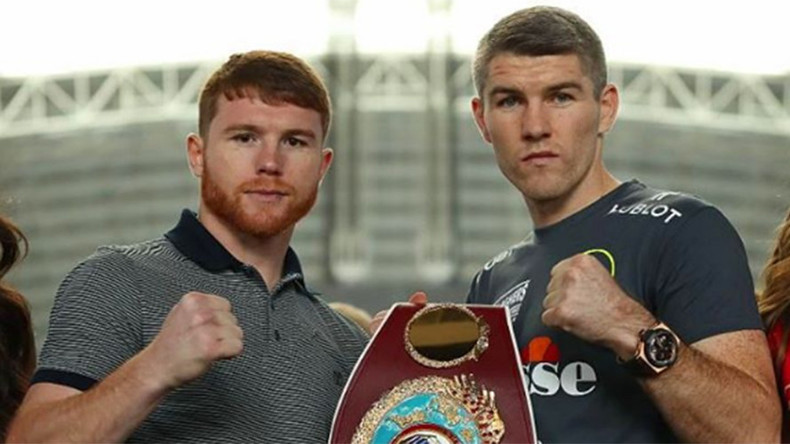 Mexican boxing superstar Saul 'Canelo' Alvarez steps into the ring tonight to challenge Liam 'Beefy' Smith for the British fighter's WBO world super welterweight championship at the AT&T Stadium in Arlington, Texas.
Canelo is widely regarded as the best Mexican fighter of his generation and has become a crossover boxing sensation. Since turning professional at 15, the Guadalajara native has won world titles in two weight divisions and has only one loss – to legendary champion Floyd Mayweather Jr.
Still only 26 and having brutally knocked out Amir Khan in defense of his WBC middleweight crown in his last fight, Canelo is now dropping down a weight to face another English fighter in Liverpool's Liam Smith, and the red-haired brawler is confident of another victory.
"I expect and I hope that it will be the same [as the Khan fight], an explosive fight. The styles are very different but the styles mix well to provide a beautiful fight, a great fight for the fans so I hope so," Canelo told BoxNation.
"Obviously I'm going to win. It's going to be a great fight, but I'm going to win."
Despite the odds being piled in his favor, Canelo goes into the fight as the challenger. Smith is the WBO super welterweight champion, having won the belt with a knockout of American John Thompson in 2015. He has since defended it twice.
But Canelo, whose nickname means 'cinnamon' in Spanish – a nod to his unusual auburn hair, is one of the most popular fighters in the sport and represents by far the sternest test in Smith's career so far.
The fight will take place on the weekend of Mexican Independence Day celebrations at the impressive AT&T stadium in Arlington, Texas, with the US state's large Mexican contingent expected to comprise the majority of the 50,000 plus crowd.
Smith, who is unbeaten in 24 fights, is aware of the enormity of the task ahead but is nevertheless brimming with self-confidence.
"I'm coming to fight Canelo, and you're going to be in for a massive shock. This fight is me making a name for myself the world over and establishing myself to the world of boxing and not just for British fight fans," said the 28-year-old Smith.
"If the fight goes the way it goes he's going to come for me early, and if he doesn't get me out of there early, he's in for a long night, then I'll stop him late.
"Canelo Alvarez beat Amir Khan. But I'm not Amir Khan. I'm the bigger man, I'm the stronger man, and I'm the world champion."
His convictions are backed up by his manager Frank Warren who believes Smith is ready to shock the boxing world.
"Liam's stepping into the lion's den but he's got the ability to do it," Warren warned.
Smith and Canelo share common ground in that they each hail from boxing backgrounds and have families deeply rooted in the fight game.
Smith's three brothers are all professional boxers; his younger brother Callum is also a British champion and has been earmarked as a future world champion, and his older brothers Paul and Stephen are also former British champs and world title challengers.
All of Canelo's six brothers are professional prizefighters, including contenders Ramon, Ricardo, and former super welterweight interim champion Rigoberto.
Both fighters weighed in bang on the 154 lbs limit. Canelo, however, was forced to strip bare to make the weight, having come down from 160 lbs for his last fight against Khan.
A Smith win would propel him into world boxing superstardom. For Canelo, a victory would mean a highly anticipated clash against middleweight monster Gennady Golovkin, who beat Kell Brook in London last week, would take a step closer to becoming reality.