Canelo Alvarez knocks Amir Khan out in 6th round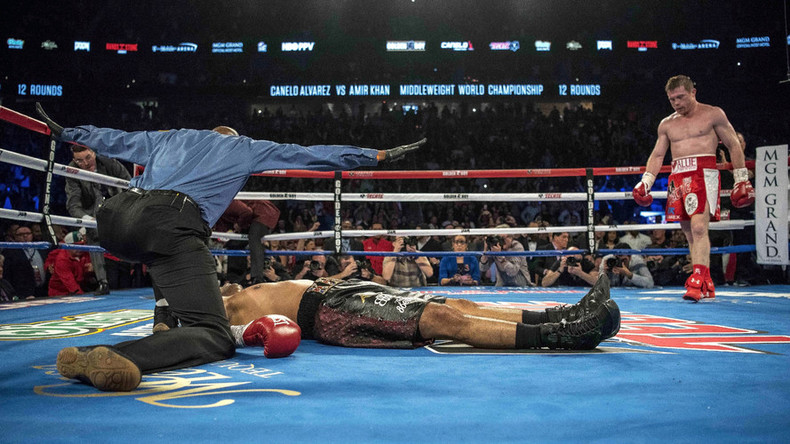 Amir Khan's decision to move up two weight divisions has seen him floored by Canelo Alvarez, who knocked the English boxer out in the sixth round of their bout in Las Vegas on Saturday night.
The match-up at the MGM Grand was described as a battle between the Mexican's punching power and the Brit's speed, but in the end Alvarez was too big and strong for the contender.
Although Khan put forward a strong showing in the early exchanges and looked to be winning the bout on points, a thunderous right hand by Alvarez ended the contest and the Brit's hopes of winning the WBC middleweight title.
The big-punching Mexican is widely regarded as one of the most explosive fighters in the world and is set for even more exposure following the retirements of Floyd Mayweather and Manny Pacquiao.
Alvarez's punching power was on show with the decisive strike that ended the fight, with Khan looking to throw a left hook but leaving himself exposed - with the champion punishing him without mercy.
The home crowd was certainly backing the Mexican and some good work by Khan had silenced his opponent's supporters in the earlier exchanges.
However, a cut above Khan's right eye was a pre-cursor to the eventual outcome as Alvarez's punching power was too much for the Brit to handle.
Khan's decision to move up two divisions to middleweight was a brave one but evidently a step too far, with the Bolton-born fighter having to now regroup and reconsider his options.
"It was hard to turn down this fight but I will probably be going down in weight again," the Brit said after his defeat.
For Alvarez, superstardom appears to be the next step as he looks to cement himself as one of the best pound-for-pound boxers in the world.
A clash with Kazakhstani sensation Gennady Golovkin is what the people want to see, but it remains to be seen whether the clash will be arranged.
"He's a fast fighter but I knew time would come to my favor and you saw that," Alvarez said after beating Khan.