Rapinoe kneels during anthem before USA friendly, blasted by US Soccer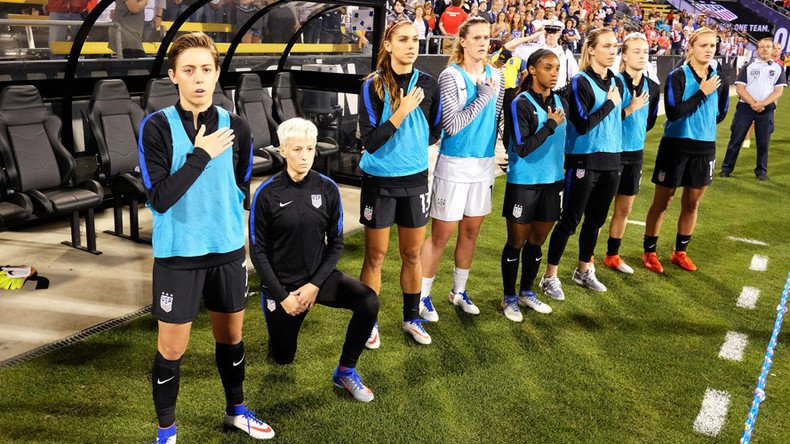 US Soccer has condemned star midfielder Megan Rapinoe after she again knelt during the national anthem, this time before the USA's friendly against Thailand on Thursday night.
Rapinoe first knelt during The Star-Spangled Banner before a game with her National Women's Soccer League team, the Seattle Reign.
She said she was supporting San Francisco 49ers quarterback Colin Kaepernick, who is currently protesting by refusing to stand during the anthem to bring attention to racial inequality.
During Thursday's game at Mapfre stadium in Columbus, Ohio, US Soccer issued a statement criticizing Rapinoe's actions.
"Representing your country is a privilege and honor for any player or coach that is associated with US Soccer's National Teams," it read.
"Therefore, our national anthem has particular significance for US Soccer.
"In front of national and often global audiences, the playing of our national anthem is an opportunity for our Men's and Women's National Team players and coaches to reflect upon the liberties and freedom we all appreciate in this country.
"As part of the privilege to represent your country, we have an expectation that our players and coaches will stand and honor our flag while the National Anthem is played."
Rapinoe, who entered the game as a second-half substitute, defended her decision to kneel for the anthem. The protest came the day after a police shooting in Columbus in which a 13-year-old African-American boy was killed after pulling a BB gun from his waistband.
"I never felt like it was wrong in the first place," Rapinoe said.
"I never felt it was disrespectful. I felt very convicted in Chicago that night when I took that knee for the first time.
"And I think that I've been trying to figure out a way to make everybody happy. That's not possible.
"I truly believe in what I'm doing and the things that I'm saying and the need for this conversation to happen, especially in light of what happened last night in this city.
"I think, ultimately, I know I can sleep at night with the decision that I made."
Kaepernick's protest first came to prominence when he remained seated on the bench before an NFL preseason game against the Green Bay Packers.
READ MORE: Colin Kaepernick refuses to stand for US anthem as part of anti-racism protest

Numerous NFL players have since joined the protest, choosing either to take a knee or raise a fist.
Rapinoe, who is an avid supporter for LGBT rights, has also has been vocal about equality in general and says her support for Kaepernick was something she felt she had to do.
"Being a gay American, I know what it means to look at the flag and not have it protect all of your liberties," she said.
"It was something small that I could do and something that I plan to keep doing in the future and hopefully spark some meaningful conversation around it."
Team USA coach Jill Ellis said she respected Rapinoe's decision, but prefers her USWNT players to stand united.
"I totally understand where Megan is in terms of her willingness to talk about hard social issues. I respect that and I support that," Ellis said.
"In this environment on a national team, I don't disassociate playing for your country.
"I think that's a part of the national symbol, so in terms of standing for a national anthem, I think that's an expectation of a national team player.
"When it comes to utilizing a team platform for an individual agenda, I think I will also put team first, and would want the individuals to put team first."
You can share this story on social media: