Organizers censor Rapinoe US anthem protest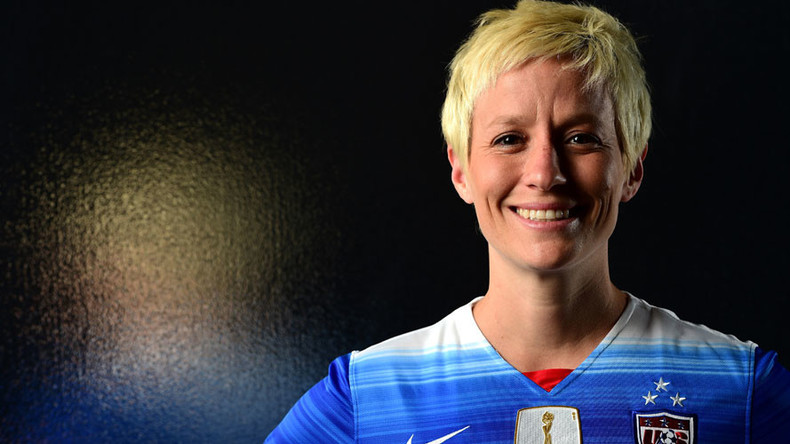 A planned anthem protest by US women's soccer player Megan Rapinoe before the match between the Seattle Reign and Washington Spirit was scuppered by organizers, who played the national anthem before any players had taken to the pitch.
Just days after she took a knee in solidarity with NFL quarterback Colin Kaepernick, Seattle Reign's Rapinoe was prevented from repeating her protest against police brutality when the game's organizers in Washington played the Star-Spangled Banner before the teams were on the pitch.
The 31-year-old midfielder/winger had vowed to protest a second time after her initial rebellion last Sunday before a match against the Chicago Red Stars.
READ MORE: US women's soccer star Rapinoe joins Kaepernick anthem protest
Spirit officials said they took the "extraordinary step" because they didn't want to "subject our fans and friends to the disrespect we feel such an act would represent," apparently unconcerned by those fans and friends who find the song about "bombs bursting in air" to be disrespectful.
The team's statement claimed they "respect every individual's right to express themselves," but added that they "disagree with her method of hijacking our organization's event to draw attention to what is ultimately a personal - albeit worthy - cause."
"To willingly allow anyone to hijack this tradition that means so much to millions of Americans and so many of our own fans for any cause would effectively be just as disrespectful as doing it ourselves," the statement read.
Rapinoe wasn't happy with the decision, telling the Washington Post that "it's f*cking unbelievable" and that she was "saddened by it."
The only US national team player to score a corner kick goal during the Olympics also took aim at the words used in the Spirit's statement, in particular the use of "hijack."
READ MORE: Police threaten to boycott 49ers NFL games over Kaepernick protests
"It was incredibly distasteful, four days before one of the worst tragedies in our country, to say that I tried to hijack this event," she said. "It's just really disappointing and disrespectful."
"We want to talk about disrespect, and me disrespecting, he [Spirit owner Bill Lynch] didn't even give both teams a chance to even stand in front of it and show their respects. It's unbelievable. It's truly an unbelievable act to me," Rapinoe lamented.