'My biggest fight, my biggest challenge' - Golovkin ready for UK debut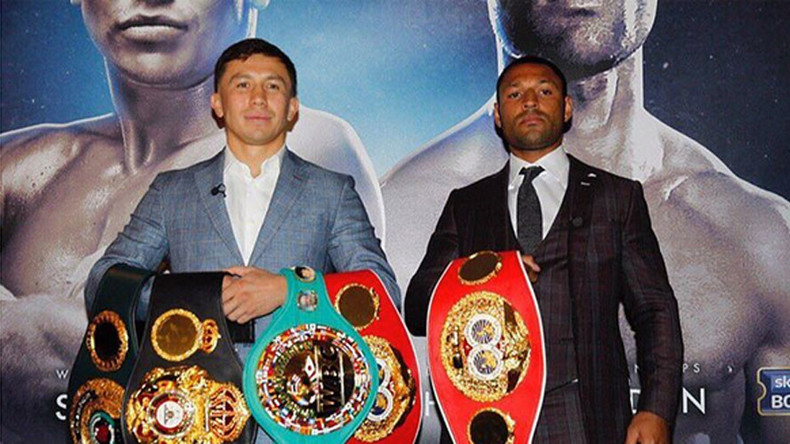 Gennady "Triple G" Golovkin says his UK fight debut versus welterweight champion Kell "Special K" Brook on Saturday night is the "biggest challenge" he has ever faced.
The unbeaten duo go head-to-head at the O2 Arena, London, with Golovkin's WBC, IBF and IBO middleweight titles on the line. It will be Golovkin's 17th straight world title fight, while Brook will be having his maiden fight at middleweight.
The Kazakh star has won all 35 of his professional fights and the last 22 by knockout. He is widely recognized as one of the best pound-for-pound fighters in the world and is a big favorite to extend his winning streak.
Brook also boasts a perfect record of 36 wins and no losses, with 25 knockouts, but the Sheffield man faces the added challenge of moving up two weight divisions to contend Golovkin's titles.
The champion however is taking nothing for granted ahead of their much anticipated clash.
"It's my biggest fight and my biggest challenge - it's my biggest step," Golovkin said. "UK fans are huge and crazy - I like the atmosphere.
"I feel great. I feel it's time to fight. I have two or three days and then I'll be feeling ready, 100 percent.
"I have to thank my coach, Abel Sanchez, who brought a new strategy for this. It feels great. I feel different and I feel good.
"I have a different plan and a more serious plan. Kell is a great fighter and I respect him.
"He's an undefeated champion from the UK with a great record. I understand it's not an easy fight for us, so I'm more serious and more focused."
While Golovkin is wary of Brook, his coach Sanchez believes he will have too much power for the British boxer.
"The fight excites me because I finally got someone in the ring with Golovkin who he believes belongs there with him," said Sanchez, who trains Golovkin at his famous high-altitude gym in Big Bear, California.
"We're fighting an undefeated fighter who doesn't know how to lose or get hurt and is knocking everyone out just like Golovkin.
"Kell is going to want to put on a show for his fans and prove he's the man that they think he is and the champion that they think he is.
"By doing that, he's going to be catching some shots from a very heavy hitter. It's going to be a great fight for as long as it lasts. I don't think the fight goes past the fifth round."
Brook heads into the bout having retained his IBF welterweight title with a two-round demolition of Canadian Kevin Bizier in his last fight. He believes victory over Golovkin would make him boxing's new pound-for-pound number one.
"I'm coming up two weight divisions and this fight is going to be unbelievable - this will put me right up there as number one pound-for-pound," said Brook.
"To have that title - that is only thing that is stopping me from sleeping. Thinking about having that title and becoming the best in the game.
"Beating such a feared guy, that everyone is talking about as the best and middleweights are running away from, it puts me in space.
"It puts me in a completely different level to every other fighter.
"I love proving people wrong and getting this win will be the sweetest thing for me. Everyone is writing me off and I will shock everyone."
Both fighters recently treated fans to an open training session in Covent Garden, are expected to earn a career-high $5million from the bout, with tickets selling out in just 11 minutes when they went on sale in July.
Former four-weight world champion Juan Manuel Marquez believes Brook is capable of pulling off an upset on Saturday, but has backed Golovkin to come out on top.
The legendary Mexican says that while Brook looks physically good as a middleweight, Golovkin's strength will ultimately prove too much.
READ MORE: Golovkin saddles up with Cowboys

"He's going to face a man with great power in his punches - Brook has better technique and he's a better boxer, but Golovkin is stronger," said Marquez.
"In short, the technical side is much stronger for Brook, but Golovkin has a lot more power. The fight will be difficult but not so much because of the weight issue.
"It seems that Golovkin is not someone who gains a lot of weight but it certainly is a tougher fight for Brook - starting with the fact that GGG is a natural middleweight and throws very powerful punches to the soft parts of the body."