'Pure hypocrisy': Activists in Canada protest Russian Paralympic team ban (PHOTO)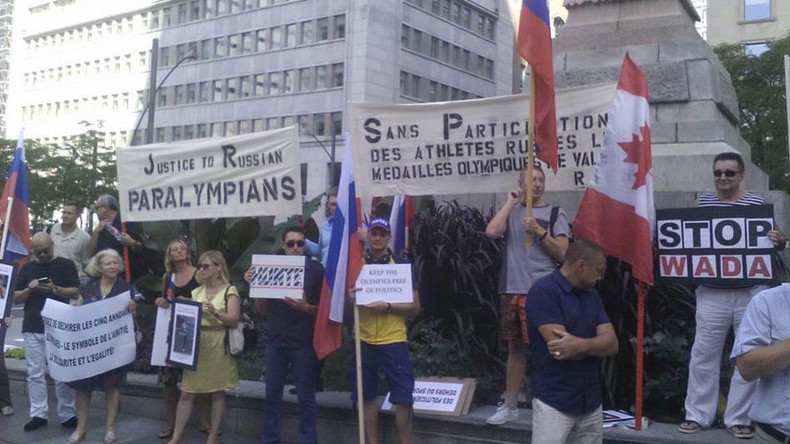 Dozens of people joined a rally in front of the World Anti-Doping Agency offices in Montreal, Canada, in support of the Russian disabled athletes banned from Rio Paralympic Games which started Wednesday
Participants of the anti-WADA rally, mostly from the Russian-speaking community, were waving Canadian, Russian and Olympic banners and carrying signs that read: "Stop WADA," "No to blanket ban of Russian Paralympians," "Mr. McLaren, at least provide the evidence!"
Demonstrators displayed their outrage at WADA's August 8 ruling to indiscriminately ban the whole Russian Paralympic team of 267 athletes, branding it a politically motivated decision, "an ugly anti-Russian move," infringing on the human rights of sportsmen and sportswomen who were deprived of the right to prove their innocence.
"Collective punishment, firstly, flies in the face of anything remotely passing for law and justice… It speaks of barefaced bigotry and racism and we have experienced that in the past, not only in colonial times but more recently," Kenneth Fernandez, political consult and representative of the Indo-Canadian community, told RT's Alex Mihailovich.
"It decided in favor of politics rather than sport," he argued, dubbing the International Paralympic Committee's (IPC) decision a "profoundly disturbing" and "purely political move."
READ MORE:'Only goal of Paralympic ban was not to see any Russian flag hanging in Rio' - sports lawyer

"On top of having decided in favor of politics, [IPC] has not presented any clear evidence of every single member having engaged in any kind of illegal or drugging activity but they just simply accepted at face value statements to this effect and said OK, we're banning the whole team," he added.
Alla Suvorova, head of the Russian Congress of Canada, described the ban as a "politicized and extremely unfair decision" that goes against the key values of the Western world.
"There's an opinion, that the Western society stands by certain principles, such as the presumption of innocence, individual responsibility for crimes and minor offences, humane treatment of people with disabilities and the right to defend yourself in court if charges are being brought against you. But we see what the reality is – all these principles are breached, violated and all heralded commitment to the rule of law and justice is a pure hypocrisy," Suvorova told Mihailovich.
Another protester with a Russian banner pointed out to a continuous bias in the attitude of western governments toward Russia, which has in this case affected the most vulnerable individuals.
"I'm really fed up with all these insinuations that some countries of the North American continent and European make against Russia and now they hit the people with disabilities, who are strong in their mind but have some disabilities," he said, adding that the IPC decision cannot be tolerated.
Apart from venting their frustration, the protesters aimed to submit a petition directly to WADA, in which they proposed a comprehensive internal reform to be carried out in order to increase its transparency. The petition, addressed to IPC president Craig Reedy, was signed by more than 10 Russian organizations in Canada.
However, WADA security guards did not allow the protesters' delegates to hand over the petition, refusing them entry to the building. The document will be forwarded to WADA by email, Suvorova told TASS.
Meanwhile, the Russian Paralympic Games, a special competition designed for all Russian disabled athletes banned from Rio, kicked off in Moscow on Wednesday with a spectacular opening ceremony.
Russian Sports Minister Vitaly Mutko, who attended the festivities, expressed hope that Russian Paralympians could soon return into the International Paralympic movement despite the current troubles.
"Of course, we regret that it happened like this and today we did not take part in this big sports gala, in the big sports festival. But I am sure that it is only temporary problems and obstacles. I am sure that the Paralympic Committee and sports movement worldwide quickly will conduct some work, so the Russian team can come back in the big Paralympic team," Mutko said, as cited by RT's Ruptly video agency.