From plumber to MMA superstar: The evolution of Conor McGregor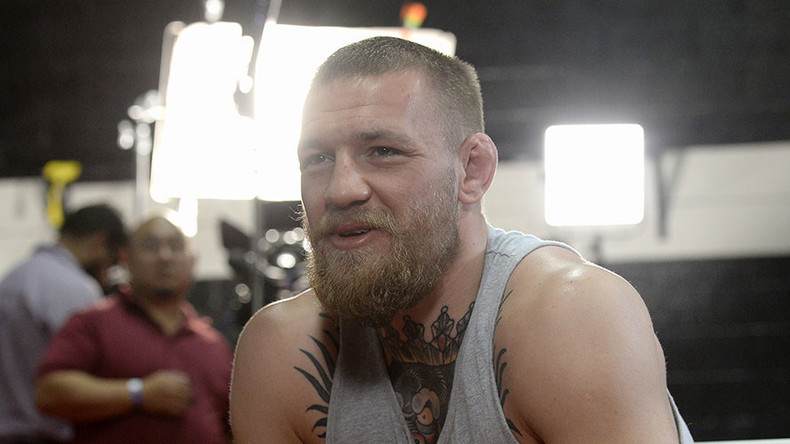 The remarkable rise of Irish UFC star Conor McGregor has gripped the sporting world, but his unremarkable beginnings from working-class Dublin differ from his millionaire "Mac Life" persona, and his ascent hasn't always been seamless.
McGregor is every inch his "Notorious" moniker. The fast-talking, fast-punching Irishman entered the UFC as a whirlwind of bravado that exhilarated crowds on both sides of the Atlantic. He is one of the most talked-about sportsmen of his generation. Chances are, if you haven't seen him fight, you've heard the stories. The measure of his personality is such that it permeates even the lives of those uninterested in his craft.
Some see him as a walking soundbite, a showman that has become a crossover star. But the evolution of Conor McGregor has been much more complex. Before the Instagrammed Rolls Royces and the custom-made David August suits, before he became the first MMA fighter to make Forbes' list of top 100 highest-paid athletes, the McGregor whirlwind began as a whisper.
McGregor grew up in the South Dublin suburb of Crumlin surrounded by a family of Manchester United fans. Young Conor would return home from his Gaelic-language school to play football in the street and dream of pleasing crowds not inside the octagon, but on the pitch.
When he outgrew his football kit, he turned to boxing, training at local Crumlin Boxing Club alongside distinguished professional fighters. Here McGregor honed the devastating striking prowess that has seen him win 17 of his 19 bouts to date by knockout, before moving into MMA as a teenager. He says he "instantly had a knack for" MMA, that developed into an "addiction."
However, fighting wasn't viewed as a credible living for McGregor, despite career opportunities seldom knocking in his blue-collar neighborhood. Instead he became an apprentice plumber in his late teens, a more suitable career path for a humble guy from Crumlin, but not for Conor McGregor.
READ MORE: Have McGregor and Rousey suffered at the hands of UFC?

"I did a year in that and it just wasn't for me, you know. It's either all or nothing in this game. If you're not training twice a day if you're not dedicated you're not going anywhere," McGregor said in an early interview.
"I felt I had enough talent, enough dedication and enough love for the sport that it was time to pack up my job and chase my dream."
That's what McGregor did, making MMA his job in 2008, under the guidance of Irish martial arts pioneer John Kavanagh. Although his punches had become more potent, it wasn't long before his reliance on striking was exploited.
In McGregor's third pro outing, he faced Russian Artemi Sitenkov in Dublin. He was beaten in the first round by kneebar submission.
"He considered himself a star. He was unbeaten until he fought me," Sitenkov recently told tribuna.sports.ru.
"Although I don't think he is as big a star as the UFC has made him. He's talks a good fight, he's Irish, and the Americans like the Irish because around 10 million Americans have Irish roots.
"[After the match] He started crying. Kavanagh went over and consoled him."
The lesson from Sitenkov was harsh but, despite the setback, a starry-eyed McGregor marched on in pursuit of his goal: to become world champion.
"I'm a professional MMA fighter with a record of 4 and 1. I'm an up and coming fighter and without a doubt you will see me in the UFC in the near future," McGregor said, his words devoid of any venom, his shaven skull without any of the brash hairstyles and a chin without a preened beard disguising a pock-marked complexion.
He won his next two fights by knockout. Although his words were resolute, just a year later McGregor was beaten by countryman Joseph Duffy. Again by submission. Again in Round 1. This time his opponent needed just 38 seconds to seal the win.
Since that night, McGregor has gone on to win 15 of 16 fights, fulfilling his dream of becoming world champion by beating featherweight king Jose Aldo in 13 seconds, amassing a fan base and a multi-million-dollar fortune along the way.
But the cars and money shouldn't fool you. The "Mac Life" that surrounds McGregor hasn't diluted his proud character; he is still the same humble boy from Crumlin. He's stayed loyal to his long-term girlfriend, and he paid off his parents' mortgage after his win against Aldo.
Those who supported him during his rise are everything to McGregor, not the material things that came with it.
In his loss to American Nate Diaz, McGregor was again undone on the ground. Diaz, a black belt in Jiu Jitsu under famed trainer Cesar Gracie, admitted post-fight that he wasn't surprised by his victory. Were his words more than an off-the-cuff comment made on adrenaline? Or had he studied McGregor's past defeats and spotted a weakness?
Everything begs the question: Will their rematch on Saturday night bring repeat or redemption? Will it be a repeat of McGregor's three defeats through submission? Or will the former apprentice plumber, who shyly professed his desire to get to the top of his game redeem himself and carry on living the "Mac Life?"
We will soon see.